The test centre is among the most modern examples of its kind worldwide in agricultural technology and has an excellent reputation. Many other international manufacturers also send us their products to put them through their paces.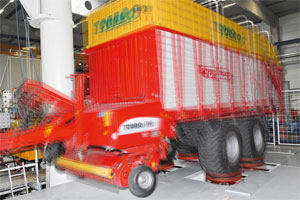 Formula 1 style test rigs
The test centre uses test facilities similar to those used in motor sport, although Pöttinger focuses more on operational stability than driving dynamics. The centre includes test facilities such as the 4 poster which simulates road haulage, a multi axial test bench with a load capacity of 4,500kg, an environmental chamber and a test rig for gears and electrical components. The 4 poster enables the entire life cycle of each Pöttinger machine to be simulated in fast motion. This allows a timing saving of 75% compared with field testing.
The showpiece of the new testing centre is the multi-axis shaker table (MAST). This apparatus can simulate acceleration forces equivalent to a rocket taking off and vibrations similar to an earthquake. Loads of up to 4.5 tonnes can be tested on this test stand, unique in agricultural engineering.
The 4-poster test bed is used to simulate the entire service life of each PÖTTINGER machine in quick motion. That translates into a time saving of up to 75% compared to a field test.
The performance of transmission components is tested in driveline tests. Operating stresses can be simulated on the driveline with outputs of up to 250 kW / 340 hp and a torque of up to 5000 Nm generated independently of rpm.
A climate chamber makes electronics hot and cold: electronic components can be subjected to temperatures of –70°C to +180 °C.
The component testing station consists of precision dynamic pneumatic and hydraulic cylinders. Tools, frameworks and chassis can be endurance-tested here.