LION 302.12 power harrows
The new 12-rotor model
The LION 302.12 with 12 rotors and a working width of 3 metres is completely new to the Pöttinger range. 20 percent more tines over the same working width as the 10-rotor harrows results in an even more perfect result with the finest crumbling effect. Especially for potato and vegetable growers, this new model delivers the best possible results, even on heavy clay soils. An additional advantage: a fine soil structure is achieved even though the rotors run at 15 percent lower speed than on models with fewer rotors - so lower power requirement is a positive bonus. Thanks to interchangeable gears, the rotor speed can be adjusted to suit any soil conditions and PTO shaft rpm. This new LION model with working width of 3 metres is suitable for tractors up to 180 hp.

Strength and durability guaranteed
The new LION 302.12 also features proven integrated tine mountings to prevent wrapping of potato foliage or other long harvest residues. The individual tines are easy to handle. The tine thickness of 15 mm ensures a long service life. In addition the LION has heavy-duty tapered roller bearings for the best strength, durability and smooth operation. The high-strength deep gear trough with integrated reinforcement web provides the gearbox with excellent strength. The labyrinth seals protect the gears against dust, moisture, soil and contribute to extending the service life of the machine.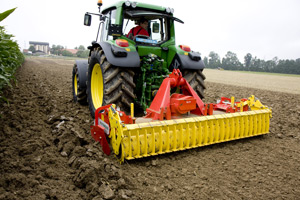 The headstock has wide supports and ensures optimum load distribution. Double-sided Cat. II/III mounting linkage lugs with integrated oscillation and three-position adjustment are designed to match future tractor classes and enable optimum equalization of uneven ground between the tractor and implement. Side deflectors (optionally spring-mounted with a parallel action) ensure a level and tidy finish. These are simply raised during transport to maintain the 3.0 metre transport width. They are released by removing a pin; no need to adjust the spring. The position of the side deflectors is easily adjusted using the slotted holes.

The same versatile range of rear rollers (cutting packer, crumbling packer and toothed packer rollers) are available as for the proven LION 10-rotor 1002 series power harrows. There is no need to adjust the levelling board when changing working depth or to compensate for tine wear, since this is adjusted automatically by the rear roller. The result is greater comfort, easier handling and fewer adjustments. This new model can also be used in combination with a VITASEM seed drill.