HIT 10.11 T tedder
The professional in performance and spreading quality
Pöttinger expands its wide range of tedders with a new model. Larger farming operations, shorter harvesting windows, high expectations of performance and forage quality are a given in modern farming practises. Pöttinger's answer to these demands is the HIT 10.11 T. The largest, trailed HIT model.

The HIT 10.11 T is a trailed 10-rotor tedder that extends the top end of the HIT range. During development the main focus was on a wider working width, but not at all costs. Perfect ground following, lowest possible forage contamination, perfect spreading quality and increased comfort were key cornerstones in developing this new machine.

The new HIT 10.11 T is a trailed tedder with a universal drawbar for high and low hitches, as well as a rugged frame with its own transport chassis. Equipped with ten rotors and working width of 10.6 metres, Pöttinger offers high performance combined with intelligent technology.

The chassis wheels remain on the ground while working, at the headland and during transport. This offers increased advantages compared to other tedder concepts:
No additional weight is applied to the tedder by raised transport wheels
The HIT 10.11 T chassis offers excellent headland manoeuvrability
The large tyres and the well-proportioned frame guarantee smooth running in every situation.
Road transport made perfect
High transport speeds are possible thanks to this machine's smooth running and perfect folding mechanism for compact transport (width and height both less than 3 m). The side under run guard folds up automatically and guarantees safe road transportation. Both wheels on the chassis also function as 'over-sized' jockey wheels which guarantee optimum ground hugging and soil protection in work. 'Liftmatic plus' is a unique feature that raises the rotors into the headland position: a double hydraulic cylinder moves the rotors into a horizontal position before raising them. This intelligent hydraulic control system prevents tines from contacting or penetrating the ground. The headland lifting system provides excellent ground clearance, which makes the tedder much more manoeuvrable. Not only does this increase driver comfort, but also increases flexibility of the tedder in the field, when crossing drainage channels, for example. The working height is easily adjustable using a central spindle.

The new rotor units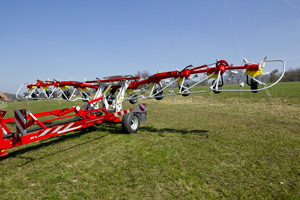 Pöttinger has redesigned the individual rotor units and the rotor mountings. A bolted frame design with a large cross-section tubular construction is responsible for the highest strength. The Dynatec rotor units are flanged and mounted to the adjacent segment with six bolts. The need to use the same rotor units across the entire machine was emphasised during development. Additional strength is added by a new guard design which is now a weight-bearing element. Sealed-lubricated single and double universal joints transfer power without play for extremely smooth running of the rotor gearboxes. A power clutch coupling enables the outer rotors to pivot by 180°. For fence line-tedding, two rotors on one side can be hydraulically angled backwards.

The proven, enclosed tine security system is also integrated into this model. The rotor plates are another new development, this see's the tine arm precisely positioned into the shaped rotor plates and also bolted directly to the hub. This guarantees increased strength with no increase in weight. The spreading angle can be adjusted on each individual rotor in three steps without the need for tools. All rotors are equipped with 16 x 6.5-8 tyres which are even better protected from forage wrapping by a new wheel yoke.

With the new HIT 10.11 T Pöttinger has launched a new tedder that offers numerous new impressive and innovative features. Designed and built to meet the high expectations of today's professional farmer.