Obtain information about your machine easily, anytime, anywhere:
PÖTPRO stands for Pöttinger-Product information for Pöttinger-Professionals. We have created PÖTPRO as a tool to provide the following machine-specific information for all machines from year of build 1997 onwards.
Operating instructions
Equipment information for the relevant machine as well as add-on equipment options
Brochures
Photos
Videos
There are two ways that you can obtain this information:
For machines supplied before May 2013, just enter the machine number at www.poettinger.at/poetpro.
All machines supplied since May 2013 have a QR Code on the data plate. Simply scan the QRC using a suitable app on your smartphone or tablet to go directly to the desired information.
There is also an additional special features QR Code that indicates add-on equipment (AUTOCUT, PCS, IDS etc.). PÖTPRO was launched to much acclaim during the AGRITECHNICA trade show. We are convinced that this provides our customers with a very helpful and efficient tool that is not available anywhere else on the market.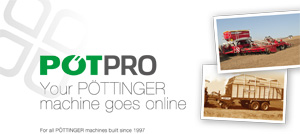 PDF-Download