PÖTTINGER offers an especially wide range of packer rollers for SYNKRO stubble cultivators and TERRADISC compact disc harrows. The whole range of rollers features precision manufacturing and robust design engineering to guarantee perfect working results and a long service life.
We recently launched the CONOROLL conical ring roller, to which a tandem version has also now been added. Find out more about the new PÖTTINGER packer rollers.
CONOROLL roller
This roller consists of rings with a diameter of 540 mm. Each ring is made up of four conical segments that are offset to the left and right. The result is a slot with alternate indentations on either side. When rainwater seeps into these indentations, they prevent it from flowing away.
The gap between each ring is 15 cm. Spring-mounted scrapers are located in between. These promote the formation of a fine tilth while keeping the space between the rings clean. The load-bearing capacity of the conical ring roller is limited on very light soil.
This is an ideal roller for medium to heavy soils. You can also use it in harvest residues no problem.
TANDEM CONOROLL roller
The TANDEM CONOROLL consists of two rollers. The diameter of the rings is 560 mm. Each ring is made up of four conical segments that slant to the left and right. Erosion caused by heavy rainfall is minimised thanks to the optimum structure created on the soil surface. The loose soil between the rings ensures good drainage. The spacing between the rings is 15 cm. This system works well on light soil. The TANDEM CONOROLL is ideally suited to trailed machines. The inclination of the roller can be adjusted to allow for the working depth and conditions. This guarantees trouble-free operation in harvest residues and stones.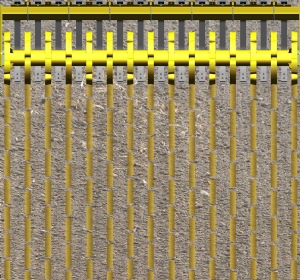 How it works
Working results
Both packer rollers ensure excellent quality tilth and consolidation of the soil. The segmented formation of the slots ensures that rainwater seeps through within each segment, preventing uncontrolled flow-off.