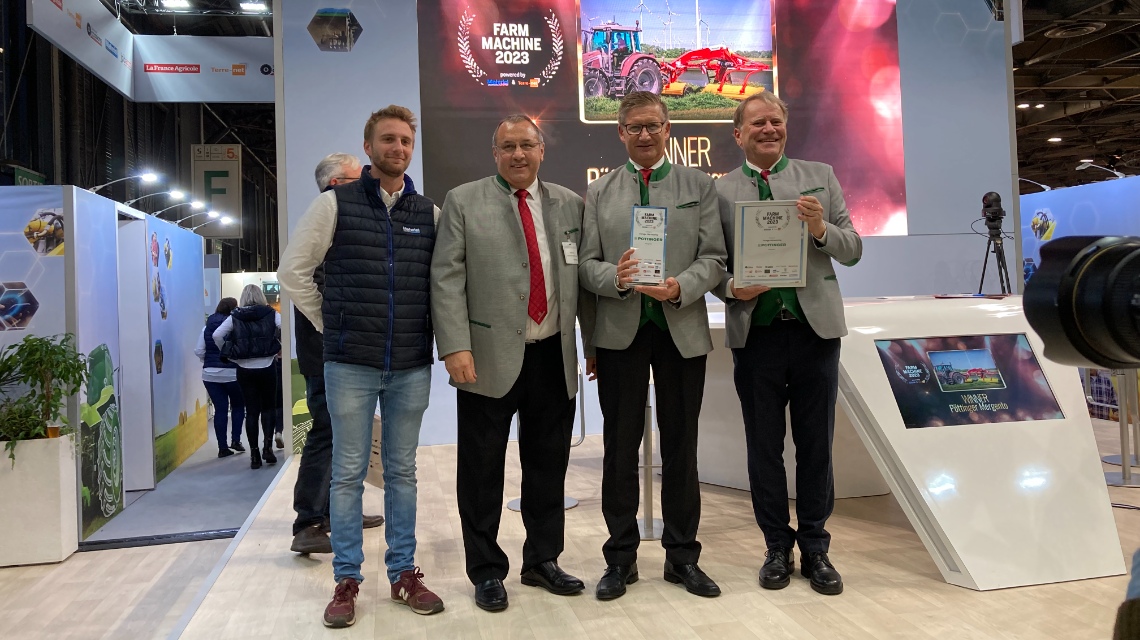 FARM MACHINE 2023 for MERGENTO VT 9220
Award for new PÖTTINGER merger at SIMA
The new MERGENTO VT 9220 merger from grassland specialist PÖTTINGER was voted "FARM MACHINE 2023" at the SIMA in Paris (FR).
"FARM MACHINE 2023" is a coveted award in agricultural technology which is presented by trade journalists working for farm magazines. The award is handed out in many different categories. MERGENTO has been awarded the winner in the category "Forage harvesting".
The jury praised how MERGENTO collects the forage using the pick-up. Meanwhile, dirt and stones remain on the ground. Without further contact with the ground, cross conveyor belts transport the forage to the swath.
Especially highlighted was the conveyor unit as heart of the MERGENTO.
The award ceremony took place on 6th November 2022. Ulysse Dubroeucq (Editor Matériel Agricole), Dr. Markus Baldinger (Managing Director Research & Development), Eric Yoder (Director Pöttinger France), Klaus Pöttinger (Owner) accepted the award.
Following the "FARM MACHINE 2022" award for the JUMBO, this is a welcome sign that PÖTTINGER is also internationally recognised as the "Specialist for the best work results".