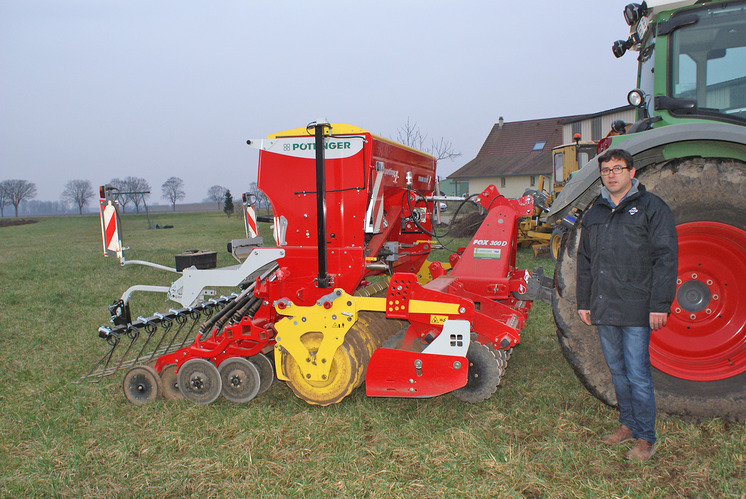 French farmer impressed with FOX compact combination
Converting to mulch drilling brings a significant increase in efficiency
Werner Lehmann is an arable farmer in Dessenheim in the east of France. He has been using PÖTTINGER soil preparation implements for more than eight years and is very satisfied with them. He owns a SERVO 45 plough and shares a TERRADISC 3501 with other farms. For drilling, he uses a VITASEM 302 ADD with double-disc coulters. Up until two years ago, the seed drill was mounted on a LION power harrow. Last year Lehmann decided to use the seed drill in combination with a FOX 300 D compact disc harrow. The result is a reduction in weight of the combination at the same time as reducing diesel consumption. The FOX enables a higher driving speed. Lehmann says that this combination is ideal for mulch drilling and he was able to sow his 90 hectares of wheat last year without using a plough at all. That represents an enormous increase in efficiency, as Lehmann is quick to point out, with the same quality of crop.
"PÖTTINGER is a company that develops continuously in soil preparation implements and continues to gain in competence. In my opinion, these machines are characterised by quality and innovation", says Werner Lehmann.
The French farmer will soon take delivery of a new pneumatic seed drill, the AEROSEM 3002 ADD, and is looking forward to taking it out into the field for the first time. Like the VITASEM seed drill, the AEROSEM can also be easily mounted on LION power harrows or FOX compact combinations, further proof of the enormous flexibility of these machines.