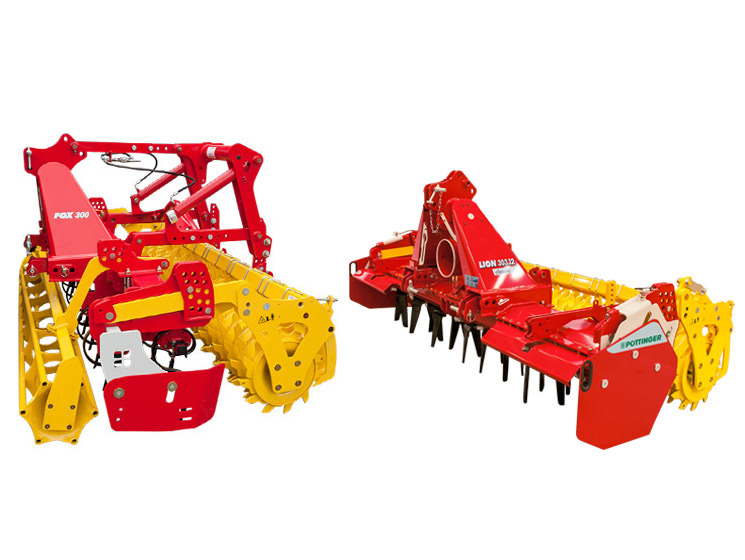 Comparison of the systems: power harrow vs compact combination
Seedbed preparation plays a leading role in the PÖTTINGER arable farming concept
Best crumbling and good mixing of the soil form the basis for ideal drilling results. PÖTTINGER achieves these goals with two different systems: the power harrow and the compact combination. Their development has focussed on high output and smooth operation.
So what are the main differences?
While the power harrow works with active, driven tillage tools (the rotors with tines), the compact combination uses passive tools in the form of harrow tines or harrow discs.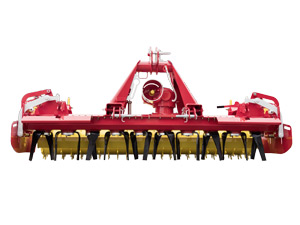 Tines
Tines on the LION
The tines on the LION power harrow are swept inwards and slanted to the rear. As a result the soil near the surface is loosened and crumbled intensively. Rougher clumps remain lower down. The 18 x 340 mm thick tines are made from hardened boron steel and are heat treated right through the whole cross-section. On machines with a larger number of rotors (e.g. 12 rotors over a working width of 3 metres), the tines dimensions are 15 x 330 mm.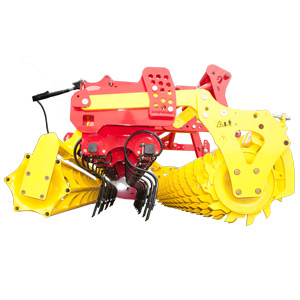 Harrow tines
FOX with harrow tines
The FOX is equipped with harrow tines arranged in 2 rows to provide a fine, crumbly seedbed. The angle of aggressiveness of the tines can be adjusted in 3 positions and they are particularly suitable for light to medium soils with low levels of harvest residue. For very light, sandy soil it is also possible to use a flat bar roller in front to compact the soil slightly ahead of the tillage tools and improve the support provided to the FOX seed drill combination.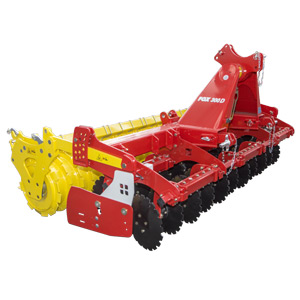 Discs
Discs on the FOX D
On the FOX D discs are used to prepare the seedbed. The discs are mounted on rubber elements that provide a degree of vertical travel and are also suitable for soil with a fair quantity of stones. The discs have a diameter of 410 mm and are fitted with sealed bearings. Their small diameter has a positive effect on breaking up and mixing the soil because the smaller the diameter the faster their speed of rotation.
LION or FOX
Both implements can be put to work on ploughed or unploughed fields, although the FOX with harrow tines is designed specifically for light soil with low levels of harvest residues. If you need to work-in any larger quantities of organic matter then the FOX D with discs is ideal. Sites with light to medium soil types are perfect for these machines. Additional advantages of the compact combination are, as the name implies, a short and compact construction for optimum centre of gravity, high working speeds, smooth running and, as a result, very low diesel consumption. That is why in certain areas it is worth thinking about the different advantages offered by these two seedbed preparation systems. The following comparison shows the differences. The cost-effective, straightforward compact combination can represent a real high output alternative to the power harrow in certain circumstances.
LION

FOX

303.10

303.12

TINES

DISCS

Number of tools

Quantity

20

24

19

22

Soil conditions

heavy

heavy

light

medium

Rocks

medium

low

medium

tough

Weight

kg

1615*

1600*

1047**

1247**

Driving speed

kp/h

0 – 10

0 - 10

5 - 12

6 - 15

Ø Output

ha/h

0,9-1,8

0,9-1,8

0,9-2,0

1,1-2,0

Power requirement

hp

90 - 180

90 - 180

75 - 180

75 - 180

Diesel comsumption

l/ha

10

10

6

7

Area/per set

ha

150

150

80

250

Variable wear costs

per ha

2,93

3,51

1,31

3,19

Fuel costs [1,10 €/l]***

€/ha

11,00

11,00

6,60

7,70

Variable costs

€/ha

24,74

26,15

11,59

15,94
*Base machine with PTO shaft and roller ZPW 500
**Base machine with edging board and roller ZPW 500
***assumed costs of 1,10 €/l