Before spring drilling, the incorporation of cover crops followed by seedbed preparation is very important. Both can be performed in a single pass, after applying slurry for example. This can be done with a stubble cultivator or disc harrow.
Many regions of Europe were subjected to very low temperatures this winter, meaning that cover crops and winter crops were well wilted from the frost. The right seedbed preparation is key to obtaining a good soil structure and maintaining soil moisture: the incorporation of frost-wilted organic material should be as shallow as possible so instead of the material being buried, it can offer sufficient erosion protection.
For incorporating a cover crop in combination with seedbed preparation, PÖTTINGER offers the perfect machine: the TERRADISC compact disc harrow.
PÖTTINGER TERRADISC - the specialist in shallow soil preparation
The PÖTTINGER TERRADISC disc harrows guarantee blockage-free operation and high speed passes even in heavy mulch residues. The uniform, shallow working depth and optimum packing effect produces a perfect seedbed. This ensures optimum germination conditions and water balance for the planting stage.
The compact design, aggressive disc angle and offset configuration of the tools ensure reliable penetration and excellent mixing in of harvest residues. The short construction is a key feature of PÖTTINGER compact disc harrows. With the TERRADISC, you have a choice of working depths between 3 and 12 cm They deliver optimum processing of your soil.
SUMMARY:
Shallow incorporation of cover crops to conserve the soil.
Maintain soil structure, soil life and moisture.
Leave sufficient mulch on the surface to ensure erosion protection is provided.
Cost-effective and sustainable tillage.
Create optimum germination conditions for the seed.
PÖTTINGER – your competent partner in tillage.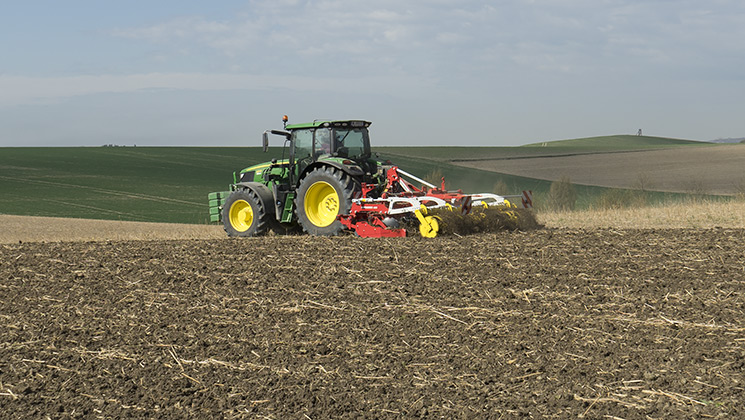 TERRADISC 4001 K