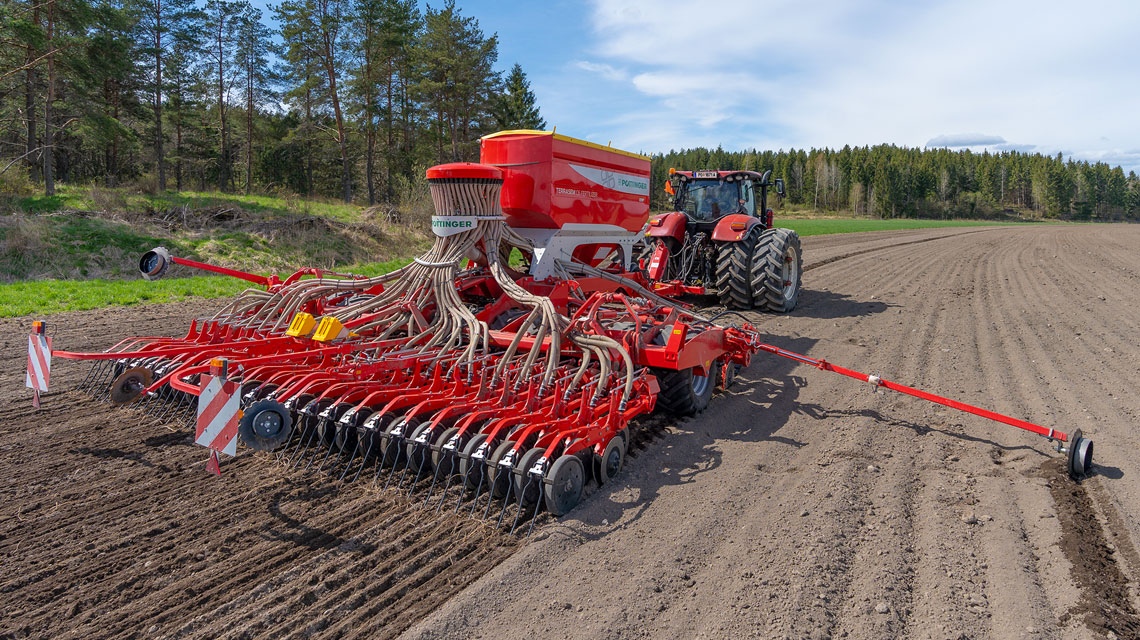 TERRASEM CLASSIC: Now without tillage tools
Smooth running, high output, big farm technology
PÖTTINGER extends its range of TERRASEM mulch seed drills with the CLASSIC series. Because they are fitted without tillage tools, they are easy to pull and deliver a high output. The CLASSIC machines are available with working widths of between 4.0 and 9.0 metres.
The low power requirement of the new TERRASEM CLASSIC and TERRASEM FERTIZER CLASSIC (with direct fertilisation) makes these machines easy to pull and cost effective to operate.
Perfect sowing
The prerequisite for the TERRASEM CLASSIC is a well-prepared seedbed. The seed can then be placed with the level of perfection required. The proven tyre packer provides the necessary consolidation ahead of the coulter to create perfect germination conditions for the seed. Consolidation is necessary because the soil has been loosened many times and needs to be connected to the moist subsoil. This ensures the capillary action needed for water to reach the seed and provide the level of moisture required for germination.
The DUAL DISC coulter features two discs with a single coulter mounted on a parallel linkage that places the seed in the soil at precisely the right water-bearing level. The appropriate pressure is applied to the coulter to ensure the seed is deep enough to last the germination process, even in areas of low precipitation or extended phases of dry weather.
Exact ground tracking lengthwise and crosswise
A uniform working depth is a prerequisite for optimum germination of the seed. The set pressure on the side frame sections as the rear roller follows the contours of the terrain ensures exact ground tracking in every position across the whole working width.
High output is optimised by the large seed hopper with a volume of 3,000 litres on machines up to a working width of 6 metres, or 3,950 litres if the machine is equipped with a hopper extension. On the machines with a working width between 8.0 and 9.0 m metres and on all TERRASEM FERTILZER CLASSIC seed drills, the seed hopper has a volume of 4,000 litres, or an impressive 5,100 litres with hopper extension.
Combination of seed and fertiliser
In addition to the classic processes of sowing cereals and small seed material, the TERRASEM CLASSIC is also capable of applying fertiliser between the seed slots. Using the FERTILIZER PRO coulter, fertiliser is deposited during the drilling process for demanding applications. The line of fertiliser is deposited between two rows of seeds and the placement depth can be infinitely adjusted hydraulically.
Additional tool for perfect levelling
The front board ensures perfect levelling when used in ploughed fields. Spring-loaded track eradicators are provided to loosen and break up hard and compacted tractor wheel marks. On light and sandy soils, the levelling paddles smooth the ridges between the tyres.
With the TERRASEM CLASSIC, PÖTTINGER offers a universal seed drill that can be integrated cost-effectively into any process sequence. The mulch seed drill delivers impressively precise seed placement and unique ground tracking.