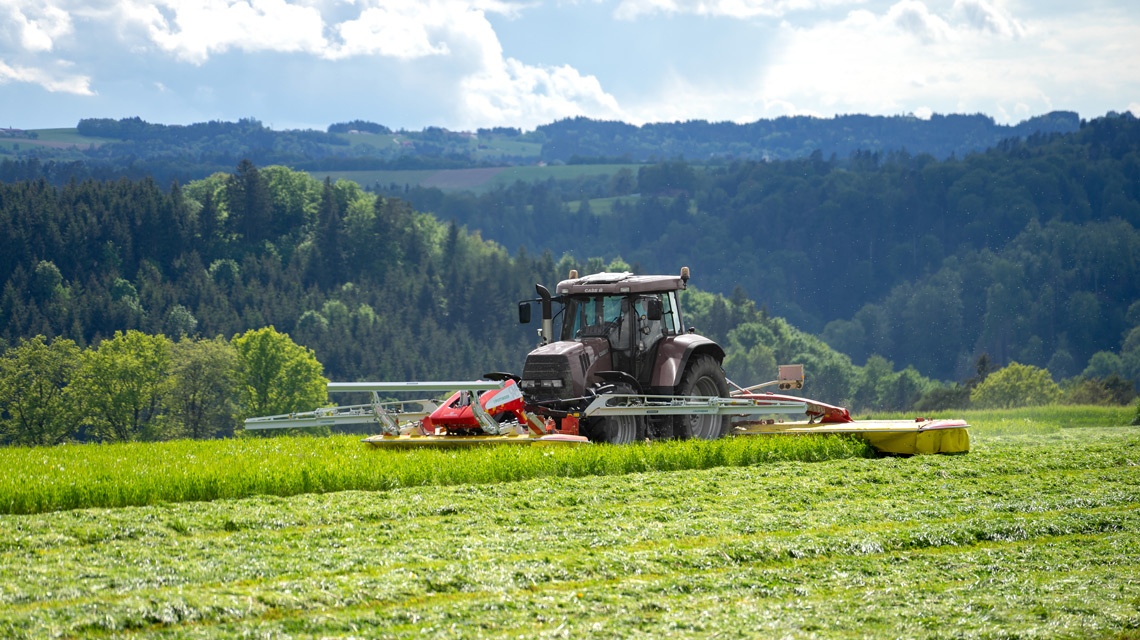 SENSOSAFE: the automated, sensor-based assistance system for detecting animals
Efficient animal detection
You often have to decide on the spur of the moment whether to mow or not - especially in times of short harvesting windows. However, the timing of the first cut in grassland farming coincides with the fawning season of roe deer and other wild animals. There is a risk of animals being seriously injured or even killed during mowing. That is why preventive action is needed. As already frequently reported on numerous channels, we at PÖTTINGER have developed a system that lets you take protective action directly while mowing independently of temperature or sunlight. With SENSOSAFE - the mower-mounted assistance system that detects animals in the field - you enjoy the highest levels of efficiency and convenience. Get set for more details and the first reports from the field.
A beam with optical sensors mounted in front of the mower scans the area to be mowed directly during the mowing process. Thanks to SENSOSAFE, any wild animals in the crop are detected and saved from getting caught by the mower. An LED integrated into each sensor emits light in the near-infrared spectral range. The light, which is not visible to humans, is reflected by the vegetation back to the sensor. However, the brown fur of fawns and other wildlife reflects light with a different intensity than plants. The sensors detect this and emit an optical and acoustic signal via the control terminal in the tractor cab. The driver then has plenty of time to stop the tractor or raise the mower. Depending on the SENSOSAFE version, the system can also raise the mower automatically. SENSOSAFE works independently of daylight and temperature thanks to the optical sensors with integrated LEDs.
With SENSOSAFE you do two work steps in one: mowing and detecting wildlife. No additional time or personnel needed for searching the fields before mowing. The time-consuming organisation of people, dogs, drones and other systems for detecting wildlife is a thing of the past. Now you can make perfect use of short harvesting windows because you can spontaneously start mowing at any time - simply start the engine, hitch up and drive off. What's more, you don't need special training or a permit to operate the SENSOSAFE system.