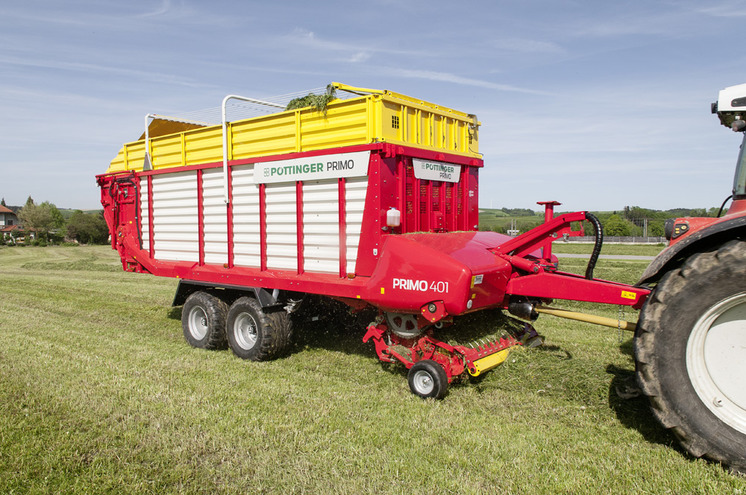 One for all: The new PRIMO
The PRIMO 101 range of loader wagons from PÖTTINGER represents great flexibility
Low-clearance building entrances, dry forage transport, transporting other crops or for mowing and loading simultaneously - the PÖTTINGER PRIMO handles all situations effortlessly.
Full power - low power requirement
The PRIMO is a smooth operating loader wagon with a capacity of 35 to 80 m³ at medium compaction that delivers excellent performance with tractors between 70 and 130 hp. Pöttinger has completely revised the range incorporating the latest technology: The pick-up has been fitted with a new design wind guard equipped with bars and the reliable loading system is driven by a Simplex 1 ½" high performance roller chain. The scraper floor is lowered at the front of the wagon so that with the same short transfer duct tyre sizes of up to 22.5" are possible as an option. The dry forage extension on top of the wagon features an attractive new design: closely-spaced profiles optimise crop containment and the upper crop flow flap is now supplied as standard equipment. A new automatic loading control system is available as an option with two sensors; one on the front panel and one on the upper crop flow flap. Improved unloading – is of course completely automatic. Optionally a PTO speed of 1,000 RPM can be specified to allow the PRIMO to be used in combination with a front-mounted mower. Configure the PRIMO to meet your specific requirements - find out about more options from your local Pöttinger dealer.