Technical data
| | ALPINHIT 4.4 N | ALPINHIT 4.4 H | ALPINHIT 6.6 | | |
| --- | --- | --- | --- | --- | --- |
| Working width | 4,45 m | 4,45 m | 6 m | | |
| Working width DIN | 4 m | 4 m | 5,75 m | | |
| Transport width | 2,51 m | 2,51 m | 2,55 m | | |
| Transport height | 2,76 m | 2,76 m | 3,5 m | | |
| Parking height | 2,26 m | 2,26 m | 2,99 m | | |
| Weight | 330 kg | 285 kg | 564 kg | | |
| Power requirement | 30 hp | 30 hp | 40 hp | | |
| Number of rotors | 4 pcs. | 4 pcs. | 6 pcs. | | |
| Number of arms per rotor | 5 pcs. | 5 pcs. | 5 pcs. | | |
| Type of tines | Unequal leg length | Unequal leg length | Unequal leg length | | |
| Quality of tines | Super C | Super C | Super C | | |
| Transmission | PTO shaft | PTO shaft | PTO shaft | | |
| Rotor diameter | 1,44 m | 1,44 m | 1,3 m | | |
| Fenceline spreading system | Mechanical individual wheels | - | Mechanical individual wheels | | |
| Headstock suspension | - | - | Shock absorber struts | | |
| Tyres – rotor outside / inside | 15 x 6,0-6 / 15 x 6,0-6 | 15 x 6,0-6 / 15 x 6,0-6 | 15 x 6,0-6 / 15 x 6,0-6 | | |
| | |
| --- | --- |
| Working width | 4,45 m |
| Working width DIN | 4 m |
| Transport width | 2,51 m |
| Transport height | 2,76 m |
| Parking height | 2,26 m |
| Weight | 330 kg |
| Power requirement | 30 hp |
| Number of rotors | 4 pcs. |
| Number of arms per rotor | 5 pcs. |
| Type of tines | Unequal leg length |
| Quality of tines | Super C |
| Transmission | PTO shaft |
| Rotor diameter | 1,44 m |
| Fenceline spreading system | Mechanical individual wheels |
| Headstock suspension | - |
| Tyres – rotor outside / inside | 15 x 6,0-6 / 15 x 6,0-6 |
| | |
| --- | --- |
| Working width | 4,45 m |
| Working width DIN | 4 m |
| Transport width | 2,51 m |
| Transport height | 2,76 m |
| Parking height | 2,26 m |
| Weight | 285 kg |
| Power requirement | 30 hp |
| Number of rotors | 4 pcs. |
| Number of arms per rotor | 5 pcs. |
| Type of tines | Unequal leg length |
| Quality of tines | Super C |
| Transmission | PTO shaft |
| Rotor diameter | 1,44 m |
| Fenceline spreading system | - |
| Headstock suspension | - |
| Tyres – rotor outside / inside | 15 x 6,0-6 / 15 x 6,0-6 |
| | |
| --- | --- |
| Working width | 6 m |
| Working width DIN | 5,75 m |
| Transport width | 2,55 m |
| Transport height | 3,5 m |
| Parking height | 2,99 m |
| Weight | 564 kg |
| Power requirement | 40 hp |
| Number of rotors | 6 pcs. |
| Number of arms per rotor | 5 pcs. |
| Type of tines | Unequal leg length |
| Quality of tines | Super C |
| Transmission | PTO shaft |
| Rotor diameter | 1,3 m |
| Fenceline spreading system | Mechanical individual wheels |
| Headstock suspension | Shock absorber struts |
| Tyres – rotor outside / inside | 15 x 6,0-6 / 15 x 6,0-6 |
HAYTOOL ASSIST
Match your tedder to the working width of your mower to get the highest utilisation and best work quality from your machines.
The best spreading quality is achieved when the tedder completely covers the swath of mowed grass on each pass. And ideally, the tractor should drive along a forage-free lane. The forage then remains loose on top of the grass stubble, making it an easy target for the tines.
HAYTOOL ASSIST helps you quickly and easily find the right tedder for your mower.
www.mypoettinger.com/haytool-assist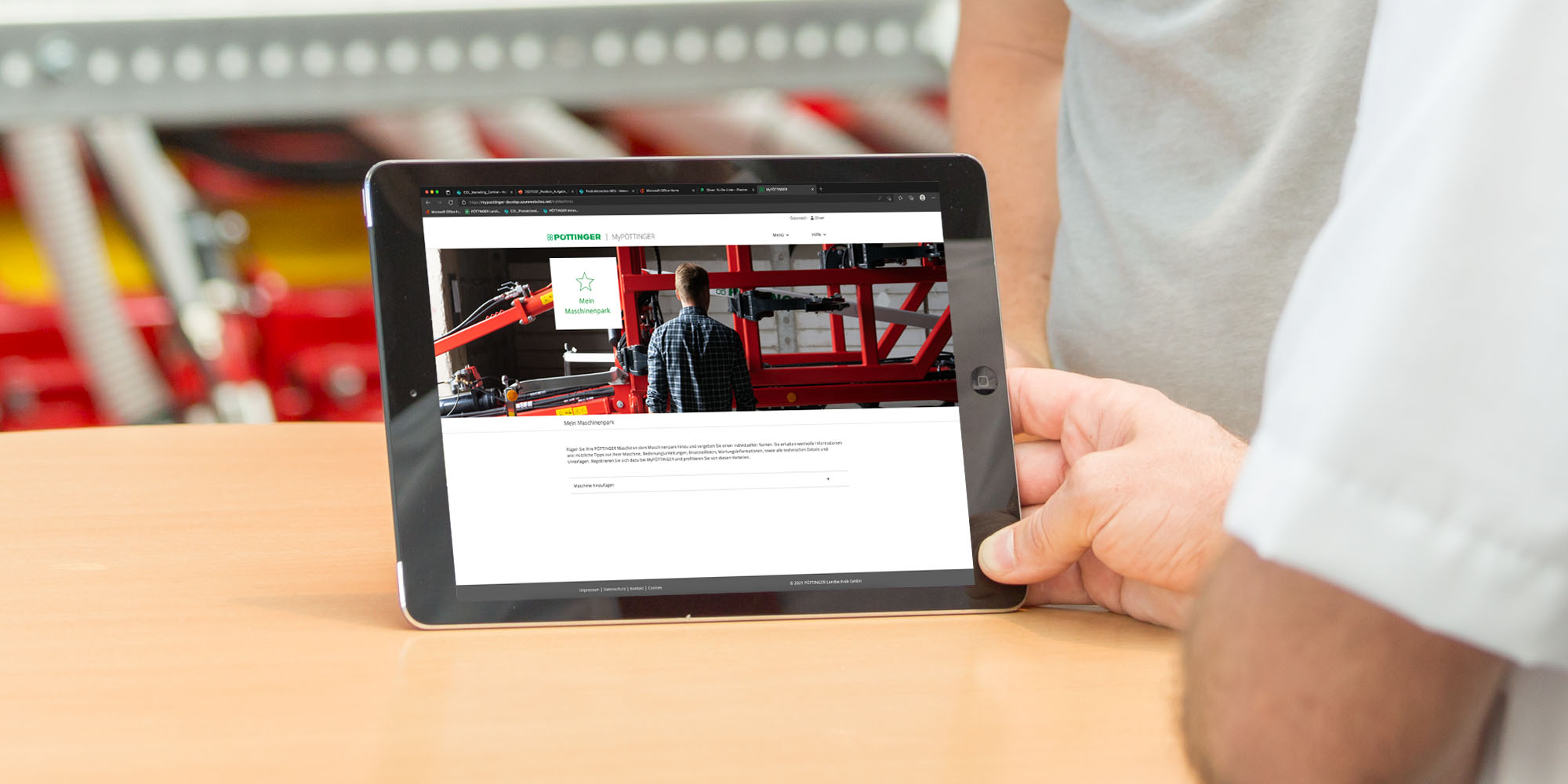 MyPÖTTINGER
Get valuable information and tips on all PÖTTINGER machines
Specific information on your PÖTTINGER machines in "My Machines".
Instruction manuals, spare parts lists, maintenance information, as well as all technical details available online
Machine-specific documentation for all PÖTTINGER machines built from 1997 onwards available online
www.mypoettinger.com

Videos
Alpine technology
PÖTTINGER - Walkaround ALPINHIT 6.6 [EN]
PÖTTINGER HIT tedders [english]
Image gallery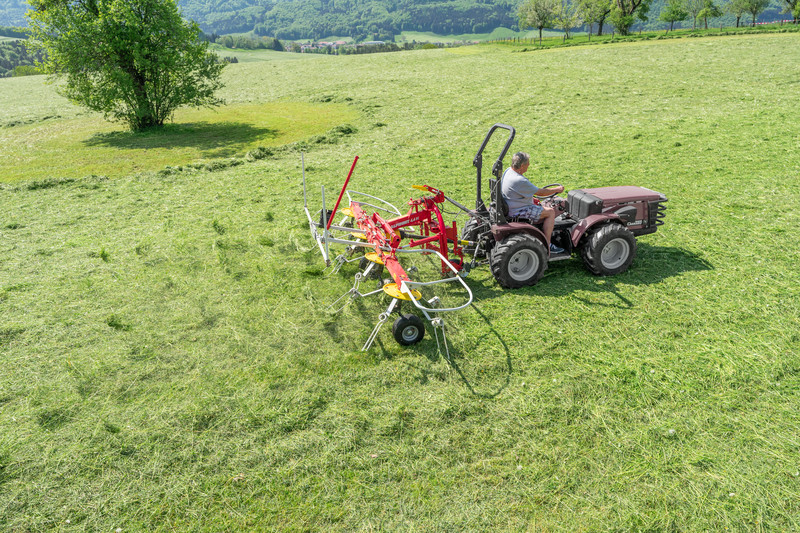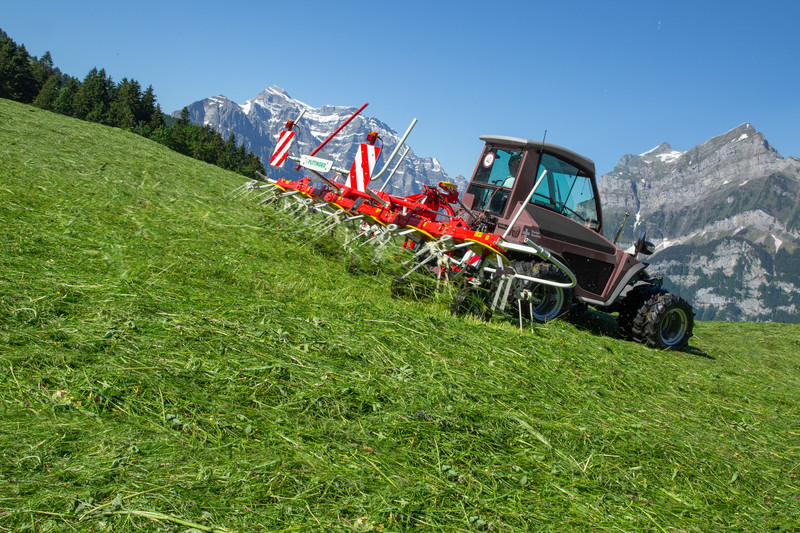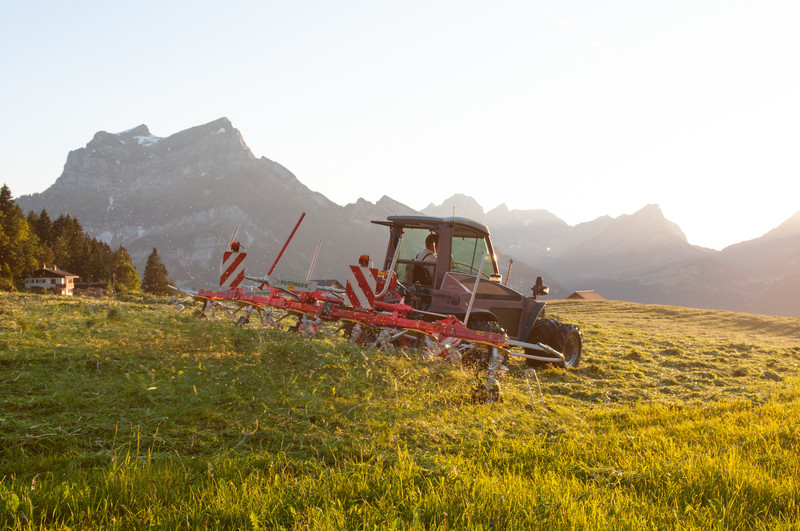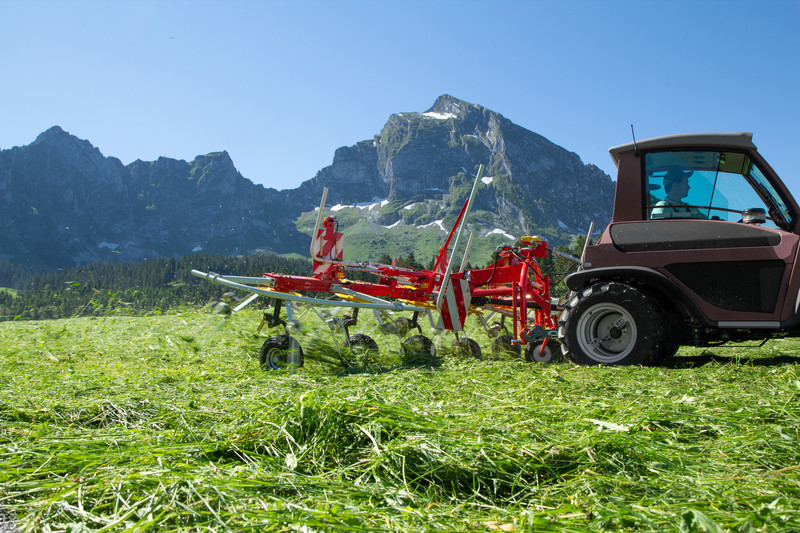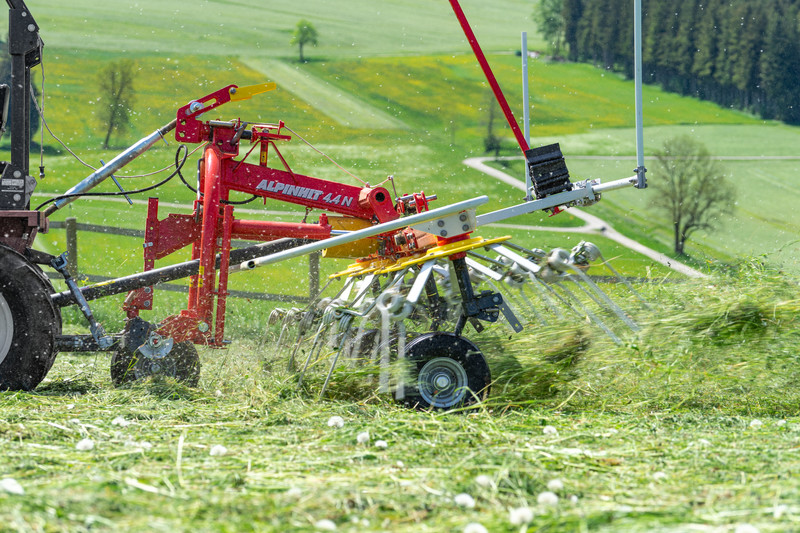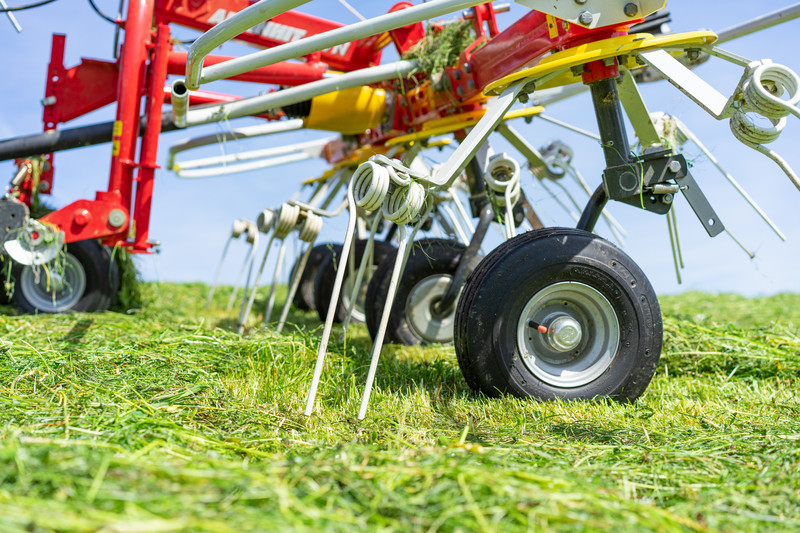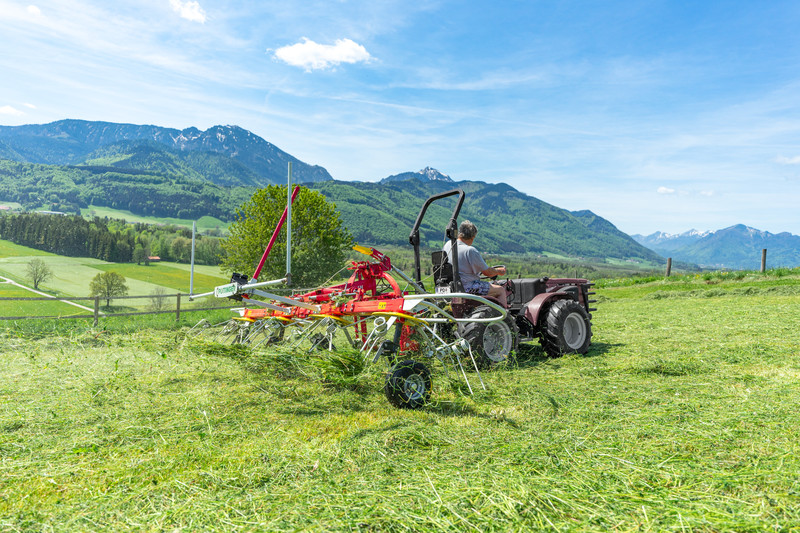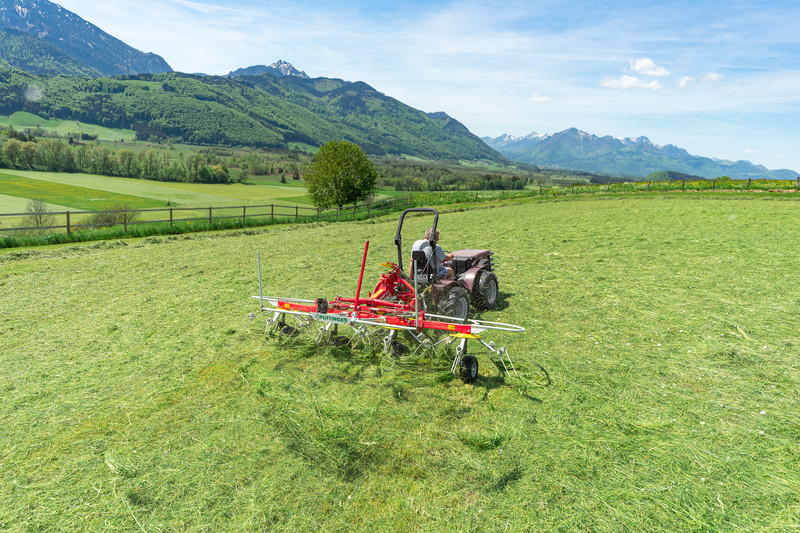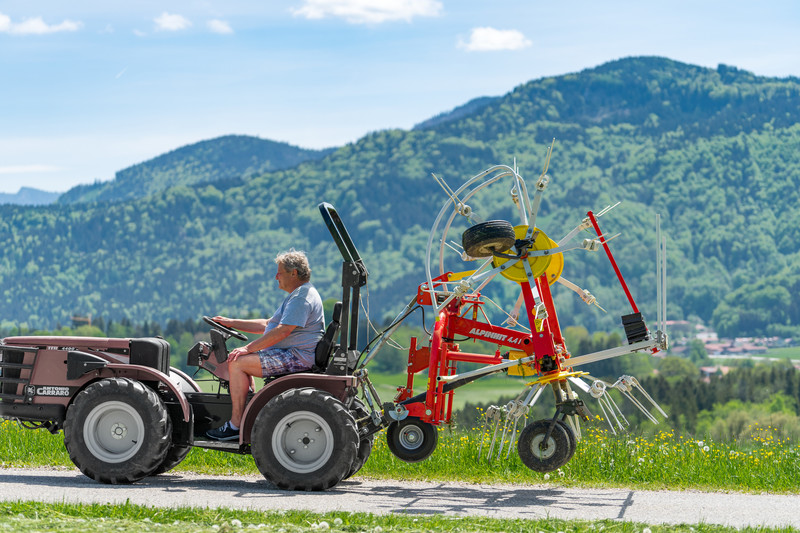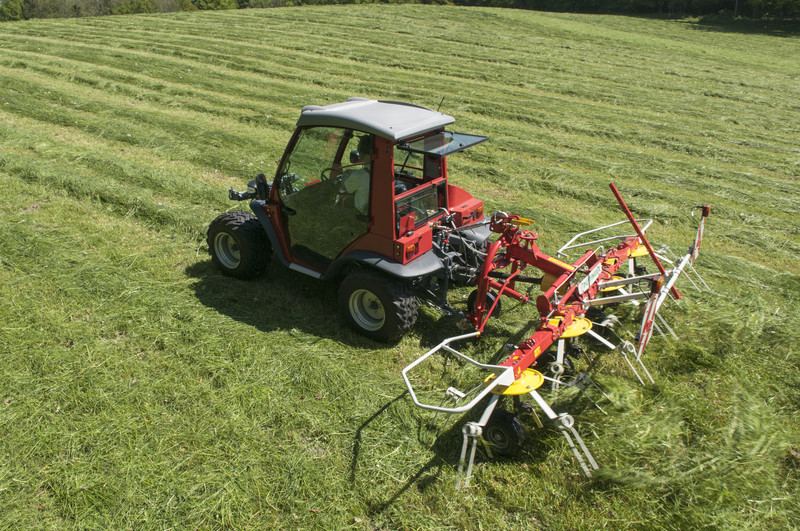 Quality
We manufacture our products using the very latest flexible industrial methods in several locations. Everything we do is delivered to the highest possible quality.
Here, we test our products as to their suitability in field conditions in order to pass on only the very best to our customers. The testing centre is one of the most modern in agriculture worldwide and has an excellent reputation. Many other internationally-recognised manufacturers have their products tested here.
Our customers expect our machines to operate faultlessly and be completely reliable. To achieve this, we apply the highest quality standards applicable to the manufacture of agricultural machines - our own. The whole production process is monitored by our internal quality management team.
Our coating processes involve the most environmentally-friendly painting methods. Powder-coated paintwork has proven to be flexible and durable in the field. This ensures that our machines retain their value even after years of hard service.