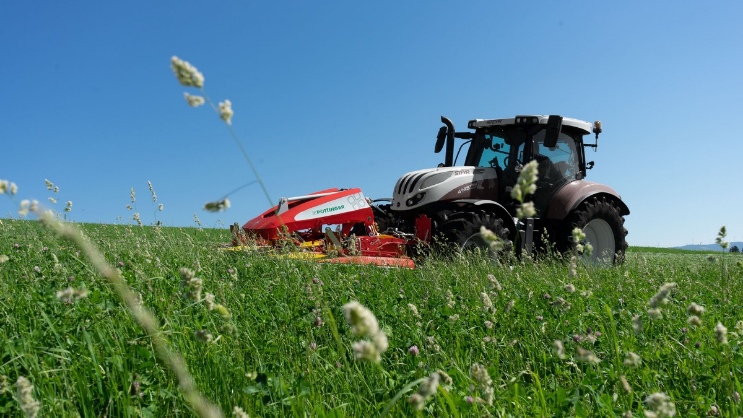 New: NOVACAT / EUROCAT ALPHA MOTION PRO
Perfect ground tracking - even more convenient
PÖTTINGER - the grassland specialist - delivers innovative innovations to mowers for the best forage in the 2020 season. For many years, farmers around the world have been impressed by revolutionary ALPHA MOTION front mower technology. With the new PRO models, the enjoyment of mowing takes on a new dimension. The new PRO range consists of the NOVACAT 261, 301 and 351 ALPHA MOTION PRO disc mowers as well as the EUROCAT 311 ALPHA MOTION PRO and ALPHA MOTION PLUS PRO drum-type mowers. The disc mowers can be used without conditioner with swath doors or in combination with an ED tine conditioner or RCB roller conditioner. The PLUS versions of the drum mowers are available with ED tine conditioners.
More convenient handling
Like the MASTER models, the new PRO models are attached to the tractor using a three-point mounting. This makes them easy to attach to any tractor, regardless of size. The cutter bar is easily accessible thanks to the folding front guard. This makes it easier to clean and change the blades. The cover can be easily removed to provide convenient access for adjusting the suspension springs. The central greasing points on the headstock represent an additional simplification in terms of servicing. The optimised drive train does not require a safety chain for the PTO shafts.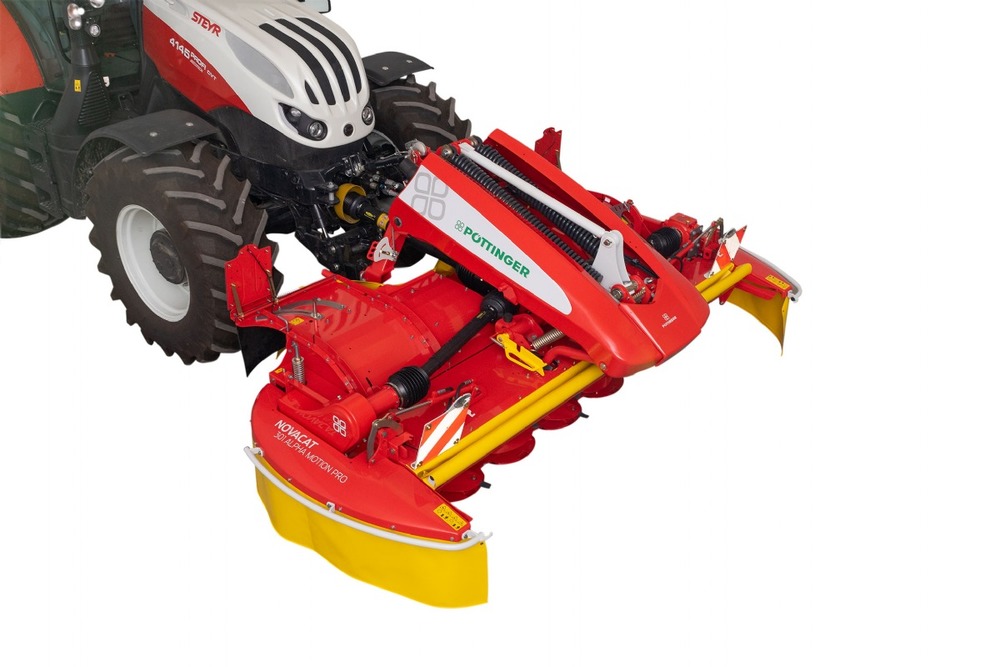 Perfect ground tracking
Naturally, the proven kinematics of the active support frame have also been used on the new PRO version. On conventional headstocks only the leading linkage responded to bumps in the ground. With the ALPHA MOTION headstock the entire carrier frame adapts to the ground contours. Each movement controls the carrier frame to ensure a "floating cut". Even at high speeds and over wet ground, which results in a unique conservation of the sward. The mower is guided harmoniously over each bump in the ground, which means that it is less stressed and wear is reduced. This extends the service life, as does the powerful cutter bar featuring TRI DRIVE for better power transmission. The engineers at PÖTTINGER have also come up with a new look: the new models are eye-catchers with their very sleek, modern design. PÖTTINGER mowers offer maximum convenience with the best ground tracking and cutting quality, low disintegration losses and high precision work without time-consuming adjustments. The NOVACAT and EUROCAT ALPHA MOTION PRO mowers offer these advantages, providing the basis for optimum forage quality and as a consequence the best forage.