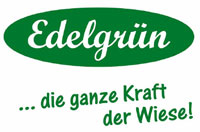 Twelve forage drying businesses belonging to the Trockengrün Marketing eG in Bavaria (GER) have been relying very successfully on Pöttinger loader wagons. The forage drying business Lamerdingen eG, which is also the headquarters of the Trockengrün Marketing eG, exclusively operates Pöttinger loader wagons; seven in total: 1 SILOPROFI, 2 EUROPROFIs, 2 TORROs and 2 JUMBOs.
Each business fetches grass from farmers for processing using hot air drying to develop protein and retain key vitamins in pasture grass. Some cultivated grass is also processed.
These businesses have decided in favour of Pöttinger loader wagons because they need durable, high performance products that offer excellent reliability. It is also very important that these machines can handle large quantities of wet grass. Pöttinger has proven to be a sound partner here because they were able to deliver the right vehicles for all applications. The machines have never let these companies down over the years. That is why they have kept coming back to Pöttinger products.
Take the EUROPROFI, for example:
Built 1997, has since carried 15,000 loads. Still serves as the stopgap for our business, and is still in use. Always performs very reliably and so there is no way that we would consider selling it.
The EUROTOP 6600:
Built 2004, has since carried 10,000 loads. Runs up to 60,000 km every year. Has never needed any unscheduled repairs, only wear parts.
Additional data: each loader wagon transports between 700 and 1,500 loads per year. Each wagon travels up to 63,000 km every year. On average a JUMBO has to transport approx. 14 tonnes of wet crop. Tractors with up to 440 hp are used to haul the loader wagons.
For Leonhard Welzmiller, Managing Director of Lamerdingen eG Forage Dryers, Pöttinger stands for reliability, durability, minimum maintenance and very good workmanship and quality. "What we really appreciate is the loading performance, especially with very wet grass, and the overall design concept of the wagons regarding service life and ease of operation", reports Leonhard Welzmiller, going on to mention that "The wagons are ideally matched and the chopping system is very easy to clean. We have very high expectations in our business because the wagons have to handle well over 1,000 loads per year with relatively low maintenance and repairs. That is precisely the specifications that the Pöttinger loader wagons have been able to meet."
The company also appreciates the spare parts service of the Austrian manufacturer. "Because the spare parts are always sent directly to us, the vehicles are back in action in no time", says Leonhard Welzmiller. He also praises the support that is given for vehicles that have already been delivered, which are tailored specifically for special applications.
To learn more about the grass crop drying businesses and the Edelgrün brand, visit:
www.edelgruen.com