FPöttinger launched two new side rakes for the 2012/13 season. The TOP 722 and TOP 812 are professional rakes that deliver optimum raking quality while being able to operate at higher speeds. One of the numerous practical highlights of the new rakes is that replacing a complete tine arm has never been so easy. Everybody knows the problem. Usually right in the middle of a hectic day's silage or hay harvesting some incident occurs inadvertently - colliding with an obstruction such as a pylon or tree, etc. - damaging a tine arm. And of course this needs to be sorted out fast. On the new rakes it only takes a w easy steps to replace a tine arm. These photos show you how easy it is.
Step 1
Simply loosen and remove the two bolts on the tine arm that needs to be removed.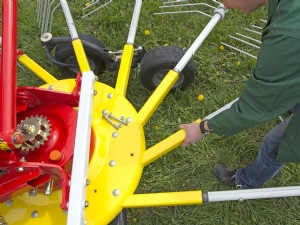 enlarge
Step 2
Now pull the complete tine arm out of the rotor unit. Replace the defective component as required.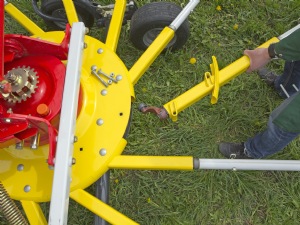 enlarge
Step 3
All you need to do next is slot the new tine arm back into the rotor hub to engage with the cam track.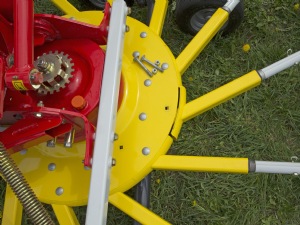 enlarge
Step 4
Simply replace the bolts and the cover.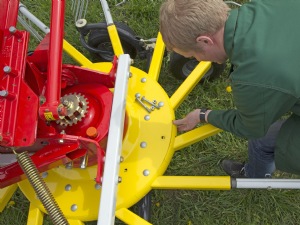 enlarge
Step 5
Finished! In just a few steps the tine arm is replaced and the rake is ready for action again.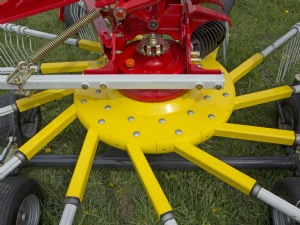 enlarge