Exactly two years after the enthusiastic farmer Matthias Leitner from Hirschbach (Austria) fetched his high performance JUMBO 6610 D loader wagon, it was that time again: this time it was a JUMBO 7210 combiline. This latest acquisition – like its predecessor – is of course equipped with autocut, the automatic knife sharpening system integrated into the loader wagon.
In addition, this combined silage and transport wagon features all the equipment that Pöttinger currently has on offer from a technical standpoint.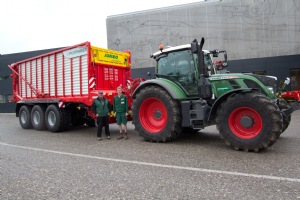 Matthias Leitner (left), proud of his latest acquisition, the JUMBO 7210 combiline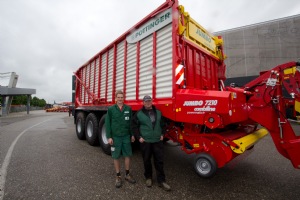 The JUMBO 7210 combiline is waiting brightly polished for departure

On the 50 ha farm belonging to Matthias Leitner in Freistadt (Austria) there are already several Pöttinger machines in operation – both for their own use as well as contract work and supplying a biogas plant. 
A Pöttinger four-rotor  TOP 1252 C s-line rake, a HIT 10.11 T tedder, a NOVACAT 306 F and NOVADISC 900 mowers and a TERRADISC compact disc harrow also decorate the farmyard.  The decision was made for the JUMBO combiline based on its versatility and the resulting increase in utilization. Extremely positive experience, particularly with the tridem axle, led to the purchase of the JUMBO 7210. Thanks to the three axles, heavy loads of forage can be brought in without damaging the ground. "The three axles give the wagon incredible grip, even in steep and hilly terrain," explains the delighted farmer. 
"The high quality of the machine and excellent service were also decisive with the Combiline, which is why we bought another Pöttinger machine," says Matthias Leitner at the handover at the Grieskirchen factory. The full range of equipment options consisting of the "cover plus" crop retention system, the "autocut" automatic knife sharpening system and the lifting axle increases operating convenience as well as performance and manoeuvrability.
Following professional training provided by Markus Gahleitner (Pöttinger Sales Promotion) the proud owner was able to head for home with his new loader wagon. 
The combined silage and transport wagon from Pöttinger, a JUMBO 7210 combiline with autocut and cover plus, was purchased from the dealer Übermasser in Freistadt/Austria.