Continuing our series on how you can improve forage quality with advanced harvesting technology, today we take a look at what happens after mowing - everything to do with tedders. Again, the focus is on ground tracking, forage protection and high functionality combined with ease of use.
1. Optimum ground tracking
PÖTTINGER tedders are specialists for clean forage. The unique MULTITAST wheel ensures perfect ground tracking. This jockey wheel keeps to an exact working height and follows the contours. Output and operating speed can be increased considerably as a result. No tools are required to adjust the jockey wheel and an anti-wrap guard is standard.
The MULTITAST wheel was tested by the DLG (German Agricultural Association) and received the seal of approval in the "DLG Focus Test".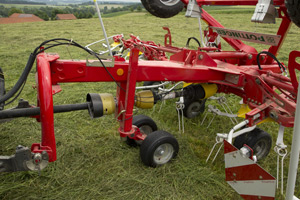 MULTITAST
2. Protects the crop
The unique DYNATECH rotor provides optimum protection for the crop. The tine arms have a specially swept-back shape. As a result the tines move in a sweep action, handling the forage softly. The unequal lengths of the tines make a significant contribution to improving the distribution quality and extending the service life - an essential contribution to clean forage.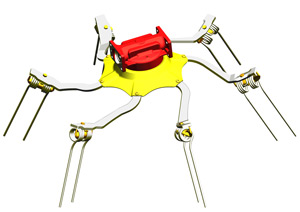 DYNATECH
3. Easy to operate
LIFTMATIC PLUS: LIFTMATIC PLUS – there is no better way of working headlands. Before being lifted, the rotors are set horizontally first and then raised. The tines do not touch the ground during lifting or during lowering. In addition, the high headland position of 90 cm clearance prevents the tines from scraping or smearing the ground. The forage remains clean and the sward is protected.