Many customers were impressed with the TOP 762 C centre-swath rake during its first year on the market. Perfect ground tracking, easy operation, compact dimensions and best raking quality are just some of this rake's attractive features. With the CLASSIC model, PÖTTINGER now offers a straightforward, cost-effective version of the TOP 762 C. The differences are the rotor unit and the working width adjustment. The TOP 762 C CLASSIC has a fixed working width of 6.85 m.
The TOPTECH PLUS rotor unit has a rotor diameter of 3.30 m and 11 tine arms, combining proven technology with new features: with the TOP 762 C CLASSIC, PÖTTINGER offers an adjustable cam track with the largest diameter of 420 mm and a tine arm bearing spacing of 600 mm. The tine arms are easy to replace using just two bolts. The new rotor unit guarantees higher power, strength and reliability at the same time as ease of maintenance. Despite the impressive rotor diameter, the transport height remains below 4 m without having to remove any of the tine arms. Warning signs with lighting and mudguards are of course standard equipment.
The yoke-style headstock is equipped with a practical PTO shaft holder and hydraulic hose boom to keep everything tidy. The TOP 762 C allows a turning angle of 73 degrees to guarantee excellent manoeuvrability with the rake.
PÖTTINGER offers a wide range of rotor chassis: from three-wheel chassis to five-wheel chassis, all versions available with or without MULTITAST ground tracking. This unique, proven PÖTTINGER MULTITAST system delivers the best ground tracking and as a result less contamination in the forage. The cutter bar is raised using a single-acting hydraulic connection. A flow splitter and individual rotor lifting system are also available as an option.
TOP C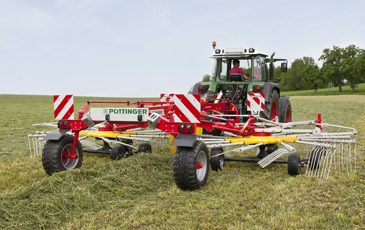 TOP C Doppel-Mittenschwader
Von 5,90 bis 7,60 m Arbeitsbreite