Peter Ivan, a farmer in Galanta in the west of Slovakia, farms 950 hectares. His land is located in a dry area at 150 metres above sea level. He specialises in winter wheat and summer oats. On the remaining area, Ivan grows forage crops such as alfalfa and green rye with seed maize and maize for silage as well as rapeseed, sunflower and sugar beet.

In total, he owns 500 cattle, 160 of which are dairy. Peter Ivan places a high value on quality, which is why he likes to rely on the productivity of PÖTTINGER grassland machines. His machinery includes a rear-mounted NOVACAT 265 H CRW mower with conditioner, a EUROTOP 651 twin rotor rake with a working width of 6.40 m and a high capacity JUMBO 8010 L. "We like to buy PÖTTINGER kit because all the machines work very well and we are extremely satisfied." says the enthusiastic farmer.
The cutter bar on the rear-mounted NOVACAT 265 H works really well and the conditioner ensures the crop dries very quickly. Each season the farmer harvests around 40 hectares of green rye and mows 50 hectares of alfalfa two or three times, depending on the weather. Ivan says "In the past we used to rent the mower, which limited our flexibility because sometimes we had to wait two days longer. Thanks to the new mower, we are certainly working more efficiently."

With its huge working width, the EUROTOP rake ideally prepares the crop to be picked up by the JUMBO loader wagon. This is used for a wide range of jobs on the farm; in addition to harvesting rye and alfalfa, it is also used for straw.
"Our JUMBO replaces three old loader wagons, which were continually breaking down and did not perform very well. At the same time, we save on the costs of running two additional tractors with drivers. A 230 hp tractor delivers the pulling power. A smaller tractor is used for bringing in the straw, and is also delivers quite sufficient speed and output for harvesting silage", says Peter Ivan.
The equipment of the loader wagon including the AUTOCUT knife sharpening system is ideal – the farmer uses this system several times a day, especially during silage making. For him the JUMBO stands for the optimum combination of quality and performance, saving on personnel and fuel costs.
"Our farm is perfectly equipped with these high performance grassland machines, especially the loader wagon. It means we are independent and no longer need to rely on others", says Peter Ivan.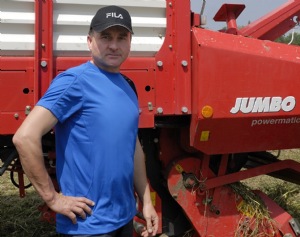 Farmer Peter Ivan in the Galanta region of Slovakia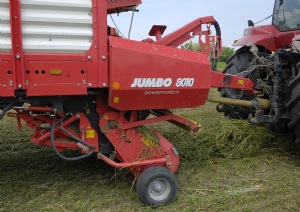 He harvests 40 hectares of green rye in 1.5 days. Between 20 and 30 wagon loads a day are possible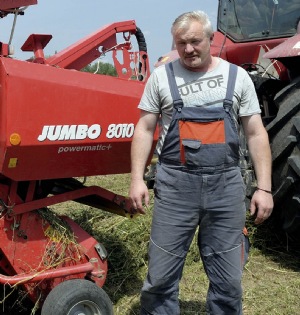 The JUMBO 8010 L is operated by driver Eduard Sučík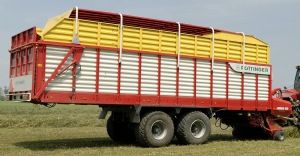 The JUMBO 8010 L is operated by driver Eduard Sučík