The cutter bar is the heart of PÖTTINGER disc mowers. Developed and manufactured in Grieskirchen, the disc mower cutter bars are a quality product made in Austria. First-class cutting quality, low drag resistance and high strength are the trademarks of these cutter bars, proven thousands of times out in the field. A key feature has now been added to make the mower quieter and increase its durability: TRI DRIVE.
Reliable power transmission with TRI DRIVE gear optimisation
The new spur gear drive runs in a straight line with virtually the same sized gears. All gears are hardened and machined for smooth running and a long service life.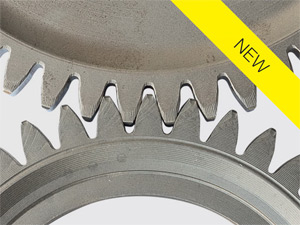 TRI DRIVE
The advantages
NEW: gear pairs with more teeth and the same diameter 39/50
Three teeth in contact for better power transmission and softer starting characteristics
The new surface of the gears ensures smoother running and a reduction in noise level.
Here you can watch how our cutter bars take shape: