The heart of PÖTTINGER disc mowers is the cutter bar, proven over thousands of cuts in the field. The cutter bars are developed and built at the company's main plant in Grieskirchen - a quality product made in Austria. First-class cutting quality, low drag resistance and strength are the trademarks of these cutter bars. Engineered details guarantee you reliable operation and contribute significantly to an extended service life.
Wear resistant skids
Wide skids made from hardened boron steel to resist impact and prevent the build-up of soil. Because the underside of the cutter bar is smooth and is fitted with contoured skids at either end, it protects the sward even on tight corners.
As an option, you can fit additional wear skids to protect the underside of the cutter bar. The bolted skids can be easily changed if required.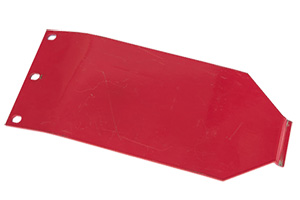 Wear resistant skid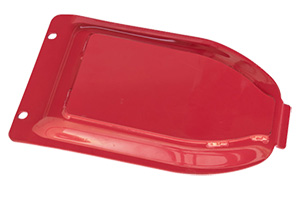 High-cut skid
New high-cut skids
With optional high-cut skids the cutting height can be adjusted to precisely match your requirements. While it is possible to vary the cutting height between 50 and 70 mm without any skids by simply rotating the cutter bar, these two different high-cut skids let you increase the height by 20 mm or 40 mm.
A new feature is that it is now also possible to fit the 40 mm skid to the outer end of the cutter bar so that the mower unit is level and mows at a uniform cutting height.
Their large radius and wide surface area make these skids especially wear resistant.
They are easily fitted in a few minutes: simply hook them in at the top and secure with two bolts at the lower end.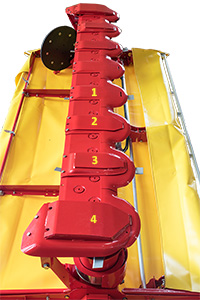 ​
1. Standard
2. Wear resistant skid
3. NEW: High-cut skids + 20 mm
4. High-cut skids + 40 mm
NEW: High-cut skids for the outer pairs of skids