Experience has shown that high output tedders are a necessity. That is why PÖTTINGER had clear objectives during development: strength, reliability and high functionality, combined with perfect ground tracking and spreading quality. The trailed HIT tedders with twelve rotors are attractive solutions for high output even with smaller tractors.
A Swiss family prove this quite clearly. Since purchasing their trailed HIT 12.14 T tedder, they manage their hay making work in half the time. The decisive criterion was the compatibility with the small tractor - no problem for the smooth running tedder. This unusual set-up attracts many interested glances. Harvesting like this is really fun!
Just like its smaller brother, the trailed 10-rotor HIT 10.11 T tedder, product development focussed on the best possible ground tracking, lowest forage contamination, perfect distribution quality and increased convenience. The HIT 12.14 T combines best working quality with high output: with its 12 rotors and a working width of 12.70 m, this machine offers a new dimension in performance.
Best ground tracking even with wide working widths
On the large trailed tedders with twelve rotors, the big chassis wheels are aligned just in front of the tine path to provide a ground tracking system for the rotors. To ensure perfect ground tracking, the individual rotor units are connected by equally-spaced floating frame joints. Combined with the chassis guiding the rotors, the HIT 12.14 T guarantees a perfect job even at higher working speeds. The large chassis wheels are close to the leading arc of the tines and therefore serve as jockey wheels for the rotors. Combined with the ideal rotor diameter, this ensures top distribution quality.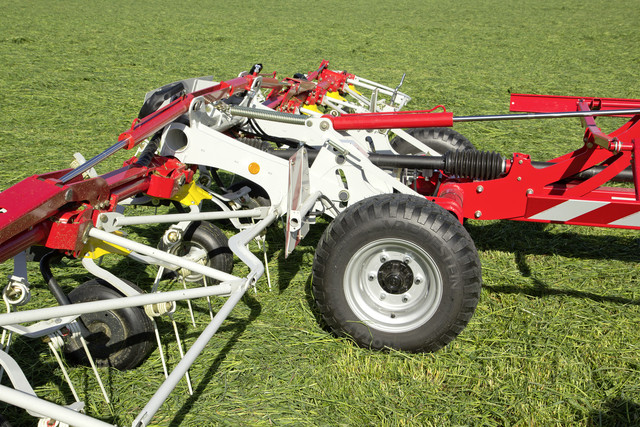 Ground tracking