The four-rotor TOP 1252 C rake is now available with the latest TOPTECH PLUS rotor units.
The large cam tracks on PÖTTINGER rakes offer a cam track diameter of up to 420 mm and a bearing spacing of up to 700 mm on the tine arms. These properties give the tine arms maximum strength with minimum stress on the arm bearings. The cam track can be infinitely-variable adjusted to different forage volumes and changing harvesting conditions. The rotor gears run in a sealed semi-liquid grease gearbox.
Rotor unit encapsulated and dust-tight
No lubrication required. TOPTECH PLUS eliminates leak problems and requires no oil checks or oil changes.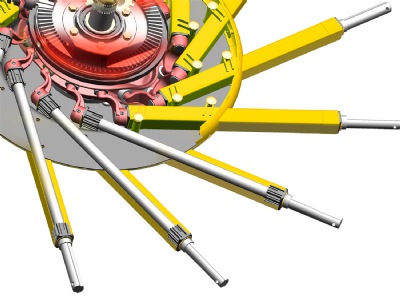 Rugged tine arm profile
Maximum uptime and durability
The large diameter cam track with its smooth ramps makes sure that the tines exit the swath ergonomically. Maintenance-free steel cam rollers, high strength cam shafts and wide spacing of the tine arm bearings guarantee high strength and low stress to the bearings. Additionally, the tine arm bearings are also maintenance-free.
The heavy-duty tine arm cross-section is strong and resistant to twisting and bending. Tidy raking work is ensured by 10 / 11 / 12 / 13 tine arms per rotor, depending on the working width. The tine arms are removable to reduce height for transport and parking.
Easy height adjustment
The working height of TOP rakes can be adjusted from the standing position using a hand crank. This is easily accessible and maintenance-free. A height indicator makes it easy to ensure that both rotors are the same height on twin rotor rakes.
Service-friendly rotor technology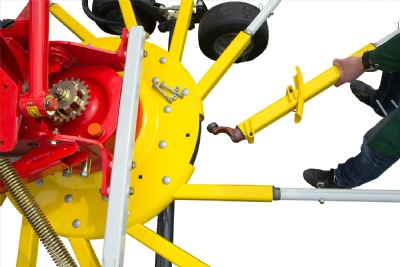 Replacing tines
Replacing tines
The whole tine arm can be exchanged quickly and easily in the event of any damage. Just undo the bolts to slide the tine arm plus cam roller out of the rotor casing. No grease can escape and the machine is quickly fully operational again.