The farm belonging to Gaëtan de Vulder is located in northeast France close to the border with Belgium. He uses a Pöttinger TERRASEM C4 artis plus mulch seed drill. On his 150 hectare (ha) farm he grows wheat (90 ha), peas (25 ha) and oilseed rape (30 ha).
He was impressed by the wide range of advantages the TERRASEM C4 has to offer:
You only need two passes with a stubble cultivator before sowing peas.
With wheat we sometimes only need a single pass, drilling together with a cultivator, and the rest can be drilled directly following rape.
He is pleased to report on his experience so far: "I noticed that even after only one pass with the cultivator the drilling quality remained consistent, and so did yield. As a result I have decided to drill all my wheat directly after the rape crop next year."
The TERRASEM operates at an average speed of 13 kph, so you cover around 3 ha in this time.
"What I really enjoy about this machine is that it is so easy to operate using the control terminal; its easy to set up with easy access for calibrating and emptying the seed hopper. When I buy my next machine I will gladly place my trust in Pöttinger again. I haven't regretted my choice." says Gaëtan de Vulder.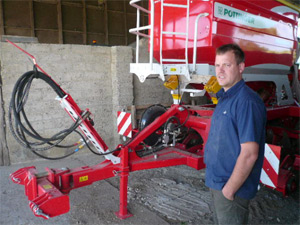 enlarge