Pöttinger launches a new generation of operator terminals: innovative design, high level of operating convenience with the same control concept implemented on all systems are the central developments in intelligent control systems.

Select Control X8

Select Control for NOVACAT X8

The pre-select system on the Select Control for the NOVACAT X8 mower combination has been completely revised and re-designed. The two-component synthetic casing looks smart and is designed for extra stability. The NOVACAT X8 mower combination is easily controlled using nine pushbutton keys. Each mower unit can be selected individually and then raised and lowered using the control unit. The automatic function greatly increases the ease of operation: if you are mowing a difficult pattern then preselect the "Automatic" button. If the tractor's remote valve is actuated the mower unit is lifted into the headland turn position. Activate the remote valve again to raise the second mower unit. Having turned round, the intelligent Select Control then lowers both mower units. If you then activate the float setting, both mower units are lowered simultaneously. The driver just needs to operate the tractor's remote valve while the Select Control system takes care of everything else. During mowing with both mower units the mowers are lifted by using the tractor remote alone.
Another important feature is the operation of the hydraulic interlock catches. These can also be pre-selected using the control keys and then opened hydraulically. The catches are locked in place automatically when the mower is raised into the transport position. Using the Select Control system makes having to pull lanyards to disengage the interlock catches a thing of the past - a luxury feature as standard!
Thanks to the hydraulic (interlocks) and electronic system you can keep the tractor's rear window closed. That means no dust or dirt can enter the cab.
The status of the mower combination is shown on the graphic display screen. The position of each mower unit on the NOVACAT X8 is indicated while you are working. Your operating hours are also recorded and can be displayed in the menu. There is a counter that clocks up total operating hours as well as a counter that can be reset for displaying working hours for each individual job. A sensor test ensures that the driver is informed about any malfunctions so that any faults can be pinpointed and remedied quickly. The Select Control system continuously monitors the status of the mower. It is impossible, for example, to raise the mower units on a NOVACAT X8 into the transport position if the PTO shaft is still rotating. Expensive repairs can be avoided as a result.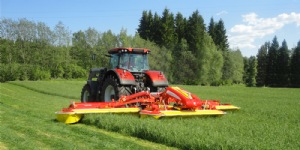 NOVACAT X8