PÖTTINGER sets new standards in productivity and efficiency with the NOVACAT S12 mower combination. With a working width of 11.2 m and a power requirement of just 160 hp, this mower combination is a real fuel saver. The largest mounted mower combination on the market offers an output of 14 ha/h (+25 percent), at a diesel consumption of just 2 l/ha (-25 percent).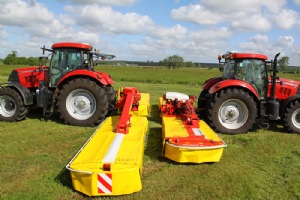 Perfect ground tracking is achieved by the mower combination thanks to centre pivot suspension that enables a freedom of movement of +/- 22 degrees. At the same time, infinitely adjustable hydraulic weight alleviation ensures optimum ground contact pressure across the entire mowing width. This "floating cut" guarantees excellent protection of the soil and crop.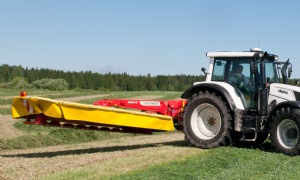 Individual mower lifting system NOVACAT S12

Operation is straightforward and convenient using a double-acting hydraulic connection. The individual mower lifting system has standard settings which can be changed via a toggle switch, so with a push of a button you can fold the mower into the transport position.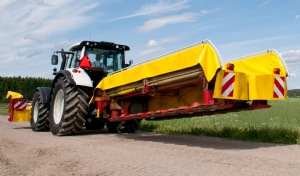 Transport position NOVACAT S12

Check out the brochure for more information: