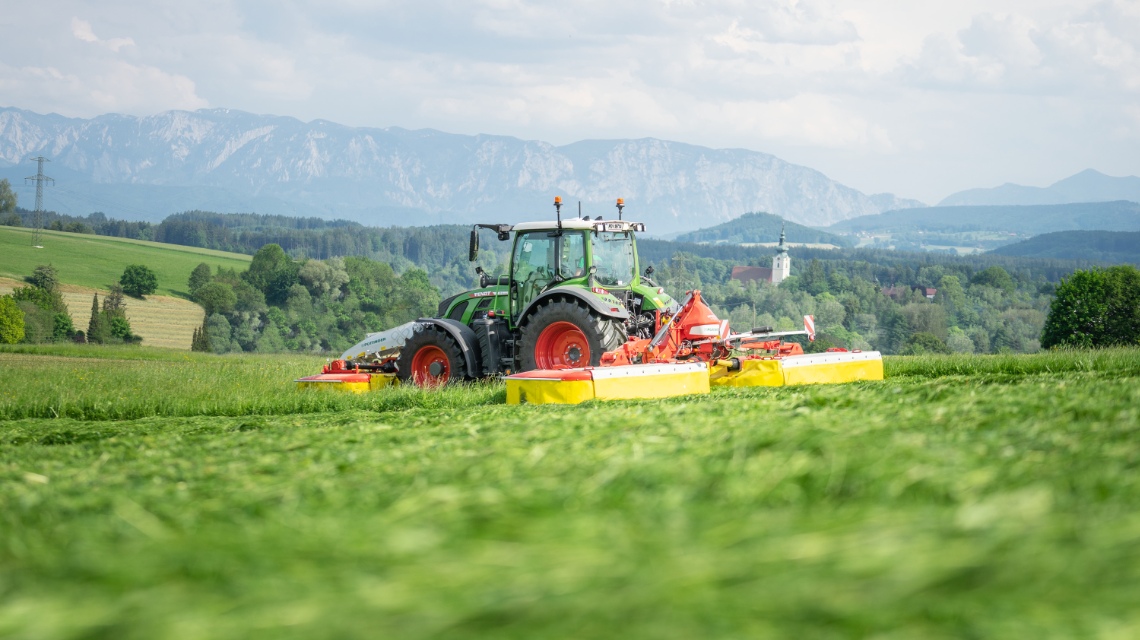 NOVACAT V 8400 / V 9200 for the highest output
New PÖTTINGER mower combinations with working widths of 8.40 / 9.20 metres
The new mower combinations NOVACAT V 8400 and NOVACAT V 9200 from PÖTTINGER are the professionals for delivering the highest possible output. A powerful performance with maximum working widths of 8.40 and 9.20 metres, combined with a compact design, are what makes these mowers stand out. The innovative agricultural machinery manufacturer launched the even larger version of the mower combination, the NOVACAT V 10000, last year.
Compact unit
Angled booms allow for an extremely short headstock. This creates a lighter-weight configuration with the centre of gravity closer to the tractor. Depending on the terrain, both the mower combinations can easily be operated with four-cylinder tractors.
The best forage
The heart of these mower combinations is the cutter bar, proven over thousands of cuts in the field. Just 4 cm high, the cutter bar guarantees optimum crop flow. And because it is only 28 cm deep, it delivers the best ground tracking. The centre pivot mounting on the mower units provides a floating travel of + 20° / -16° to ensure perfect ground tracking. Hydraulic weight alleviation provides uniform ground pressure over the whole cutter bar width.
Highest reliability
The NONSTOP LIFT hydraulic collision safety device provides optimum protection of the cutter bar. In addition, the mower efficiently avoids obstacles by folding backwards and at the same time raising the boom. This prevents damage to the mower unit even at higher speeds.
Flexible operation
The mower combinations are easy to operate because they are equipped with the Basicline preselect system as standard. As an option, the ISOBUS-compatible Selectline preselect control system is also available. On both systems, both mower units can be lifted separately using just one spool valve, which also actuates the transport safety interlock. With the Selectline preselect control system, the automatic individual lift system makes it easy to mow wedge-shaped fields. If the tractors offers headland management, then individual lifting using two separate spool valves is also possible.
For road transport, the mower is hydraulically folded vertically through 92° and then locked hydraulically in the transport position. When attaching and detaching the mower combination, the retractable front guard provides plenty of space between the tractor tyres and the mower.
Both mower combinations are available with swath formers, ED tine-type conditioners or RC roller conditioners.
With these mower combinations, PÖTTINGER combines high output performance with intelligent technology to put the satisfaction back into mowing.