On 23 June 2016 PÖTTINGER welcomed a high ranking guest: David Stuart, the Australian Ambassador in Austria, visited the agricultural machinery manufacturer. Australia is an important market for PÖTTINGER that saw a major increase in turnover during the last financial year. A sales subsidiary was founded in Australia in 2008, which has since proven highly successful.
"Agriculture is very important in Australia", said the prominent guest, "and because of the high costs of wages, farmers expect high output and productivity from their machinery." PÖTTINGER sees a lot of potential Down Under. "We are well placed with our wide range of products, including loader wagons and seed drills as well as the newly developed IMPRESS round baler, which has performed excellently during field trials in Australian conditions," says Heinz Pöttinger.
Despite the extreme climate with droughts and floods, Australia is one of the most promising markets abroad for PÖTTINGER. The potential will be maximised by our perfectly trained dealerships and a highly motivated team.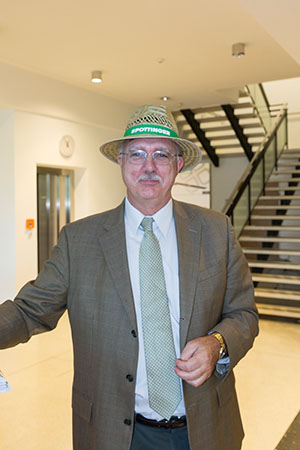 David Stuart is impressed with PÖTTINGER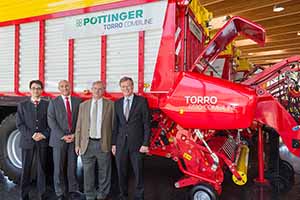 From the left: Christoph Mauhart (Business Development Asia Pacific), Gregor Dietachmayr (Vice President Sales & Marketing),
David Stuart (Australian Ambassador), Heinz PÖTTINGER (Managing Director)