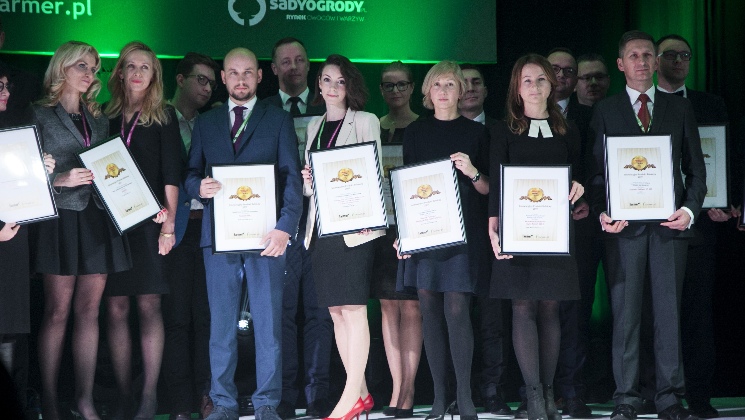 Poland: Innovation prize for the AEROSEM PCS DUPLEX SEED and award for PÖTTINGER trade fair stand
Innovation is a key factor in agriculture
Innovation is a key factor in agriculture: "Thanks to new technologies, Polish farmers have received a major boost and are able to work more effectively and efficiently", says Denisiuk Wojciech ("Farmer" magazine) at the Innovation prize awards on 20 November 2017 in Warsaw / Poland. This even hosted by the portal farmer.pl and "Farmer" magazine awards prizes every year to the most innovative products on the Polish market. A total of 16 prizes were awarded in eight categories. The PÖTTINGER development AEROSEM PCS DUPLEX SEED, the two-row maize planting system, won the award in the agricultural machinery category.
The jury of the 2017 innovation prize chose the new DUPLEX SEED system for its increase in yield of 5 to 10 per cent, the increase in performance during operation thanks to higher driving speeds and its flexibility in operation.
The award ceremony took place for the third time during the conference "Challenges for Polish Agriculture".
PÖTTINGER contributed a presentation: Michal Zabost (PÖTTINGER Poland) held a talk on "Innovative planting concepts – one seed drill, many possibilities... During his lecture he presented planting concepts for future-oriented farms using the AEROSEM and TERRASEM seed drills.
Prize for the most attractive trade fair stand at Polagra Premiery Messe in Poznan (PL)
Last week the PÖTTINGER Team won the prize for the best looking trade fair stand at the Polagra Premiery Messe agricultural show.