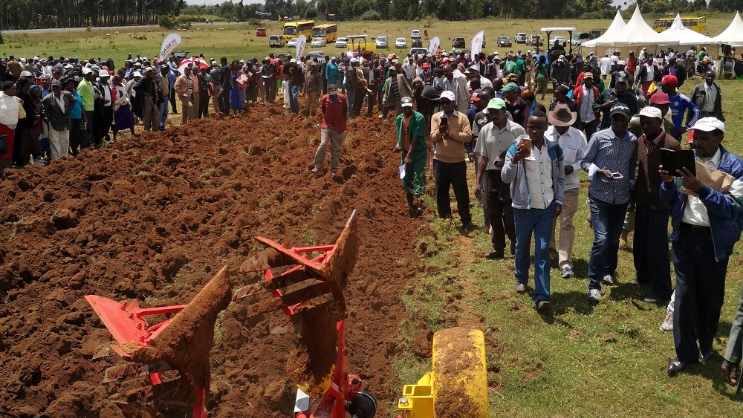 PÖTTINGER demonstrates tillage implements at meeting of the National Potato Council of Kenya
Solid foundation laid for planting crops for food in Kenya, Africa
In cooperation with the German Association for International Cooperation (GIZ) and Grimme, a meeting with representatives from the National Potato Council of Kenya was held at the beginning of October.

Participants included the head of GIZ in Kenya, farmers and contractors, the Minister for Agriculture and representatives from several agricultural machinery manufacturers, as well as a delegation from the PÖTTINGER Team.

Following intensive discussions and presentations on 10 and 11 October which also covered the challenges of farming potatoes (mechanisation, finance, arable land, planting, management), on 12 October there was a field demonstration. During the large scale demonstration with at least 500 visitors, various agricultural machines were displayed and shown in operation. These included a LION 253 CLASSIC power harrow, a VITASEM 252 CLASSIC seed drill, a SERVO 25 2-furrow plough and a SYNKRO 2520 cultivator.

The machinery and the high quality work of the machines was assessed with interest by the spectators. As a result, a solid foundation has been laid for entering the market in Kenya.