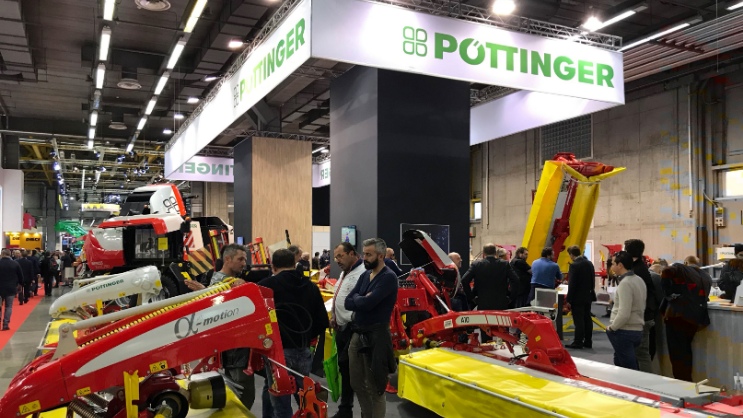 Trade fair highlights and awards for PÖTTINGER
Award-winning IMPRESS and NOVACAT 352 CROSS FLOW
Many PÖTTINGER innovations have won awards at several international trade fairs, such as the IMPRESS baler & wrapper combination and the NOVACAT 352 CROSS FLOW rear-mounted mower. Check out impressions of the Agromek (DK), the Austro Agrar (AT), the EIMA (IT) and several other events.
The Agromek in Herning (Denmark) presented an award to the NOVACAT 352 CROSS FLOW mower with swath merging. Lars Andreasen (PÖTTINGER Scandinavia) received the certificate on behalf of the company.
EIMA in Bologna (Italy), from 7th to 11th November 2018
The trade fair - which featured 1,900 companies exhibiting in a space of 140,000 m² - was held this year for the 43rd time. PÖTTINGER was there with 19 machines displayed on an 800 m² stand. Together with the team from PÖTTINGER Italia, we were able to present our latest machines to an interested crowd of visitors. Our new NOVACAT ALPHA MOTION MASTER mower and the IMPRESS 155 VC PRO and IMPRESS 185 V MASTER round balers created a great deal of interest. To provide our customers and other visitors to the show with a good overview of our product range, we also exhibited other machines such as mowers, tedders, rakes, stubble cultivators, compact disc harrows, power harrows and seed drills.
Austro Agrar in Tulln (Austria), from 21st until 24th November 2018
The Austrian trade fair for agricultural technology attracted numerous visitors to Tulln in the province of Lower Austria again this year. For us, this trade fair was again a great success, as witnessed by the huge crowds at our stand in hall 6. We also received the Silver AgrarTec prize in the grassland sector for the IMPRESS baler & wrapper combination. The jury was particularly impressed with the completely new design of high performance wrapping concept, which is especially matched to the high output of the baler. This award proves our innovative strength once again.
Agrama in Bern (Switzerland), from 29th November to 3rd December 2018
One of the most important agricultural technology shows in Switzerland is the Agrama in Bern, which this year again presented Swiss farm machinery fans with many innovations. Particularly well received were the IMPRESS baler & wrapper combinations and the BOSS ALPIN, which perfectly adapts to steep inclines and uneven terrain. The AEROSEM PCS seed drills with precision single-seed placement were also in great demand.