The highest strength
Our rotor units are built so that the stress on the bearings is as low as possible. Wear is minimised as a result. The large diameter cam track with its smooth ramps makes sure that the tines exit the swath ergonomically. Maintenance-free steel cam rollers, high strength cam shafts and wide spacing of the tine arm bearings reduce the force acting on the bearings. The large cam tracks offer a cam track diameter of up to 420 mm and a bearing spacing of up to 900 mm on the tine arms. These properties
give the tine arms maximum strength. The robust tine arm profile is also extremely resistant to twisting and bending, as these forces are dissipated along the edge sections.
Adaptable
The cam track is infinitely adjustable. As a result your rake can be adapted flexibly to different crops and harvesting conditions.
The tine arms are removable to reduce width during transport and height for storage. These are easy to slot in and it is not possible to fit them the wrong way. Tidy raking work is provided by 10 to 15 tine arms per rotor, depending on the working width.

Convenient
You do not need to maintain the tine arm bearings. Also the rotor gears run in a sealed semi-liquid grease gearbox. The cam track does not need to be greased. So you won't have any problems with oil leaks. TOPTECH PLUS eliminates leak problems and requires no oil checks or oil changes.
Service-friendly rotor technology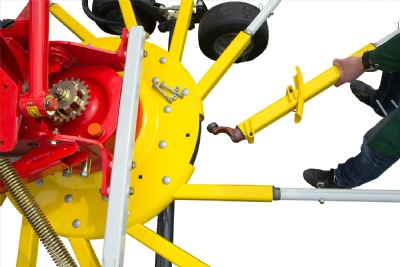 Replacing tines
Tine change
The whole tine arm can be exchanged quickly and easily in the event of any damage. Just undo two bolts to slide the inner tine arm and roller out of the rotor casing. No grease can escape and the machine is quickly fully operational again.