PÖTTINGER, the Austrian agricultural machinery manufacturer, set itself up for success in 2012 by founding its own sales subsidiary in the UK. Alois Pottinger UK ltd. is responsible for sales of grassland, tillage and seeding equipment. Shaun Groom, the long-time General Manager, leaves the company for personal reasons at the beginning of next year. Melanie Jane Gardner will lead the company from 4th of January 2021.

A long successful history
Great Britain is a key market for PÖTTINGER. PÖTTINGER was already selling its machines on the British market 20 years before the sales subsidiary was founded. The company has a strong dealer network with nationwide coverage throughout the island. With its comprehensive product range, its expertise in service and in spare and wear parts, the agricultural machinery company is an important partner for British agriculture.
Shaun Groom, General Manager of Pottinger UK, based in Corby, Northamptonshire, has been instrumental in setting up the subsidiary and has made a significant contribution to strengthening the brand. He will be moving on to a new role at the start of the year. "We wish Shaun success in his future endeavours," emphasises Sven Niels, Director Sales Western Europe, Africa and is grateful for the many successful years. In its search for a successor, PÖTTINGERlooked for a manager who combines a willingness to change and a high level of commitment. "With Melanie Jane Gardner we were able to inspire a personality who will develop sales partners and employees with skill in order to achieve the ambitious growth targets in the UK," Sven Niels is convinced.
Melanie Gardner, 49, has been in contact with agriculture since early childhood. As a HR professional and Business Development manager, she has acquired a lot of knowledge and skills in dealing with people. She knows that customer orientation is a very important ingredient in the recipe for success.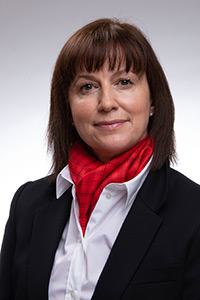 Melanie Jane Gardner
More success with PÖTTINGER
PÖTTINGER is well equipped to meet the needs of UK farmers and contractors. An extensive, innovative product range and the strong team in the UK will help to ensure that the company continues to be successful in the future. "I am very much looking forward to my new role. PÖTTINGER stands for quality, efficiency and reliability built on a family owned foundation of trust and commitment. I will focus with my team - as my predecessor did - on a good partnership with the dealers and my colleagues. I see great potential in our country," Melanie Gardner is convinced and looks forward to the new challenge.