Generate, transfer and benefit from data
Intelligent machines generate site-specific data relating to the machine and the job. Thanks to ISOBUS, this data can be easily exchanged between the implement and the terminal. Smart features allow data generated during field work to be easily moved to FMIS (farm management and information systems) and used for documentation purposes. Manufacturer-independent standards greatly simplify data transfer.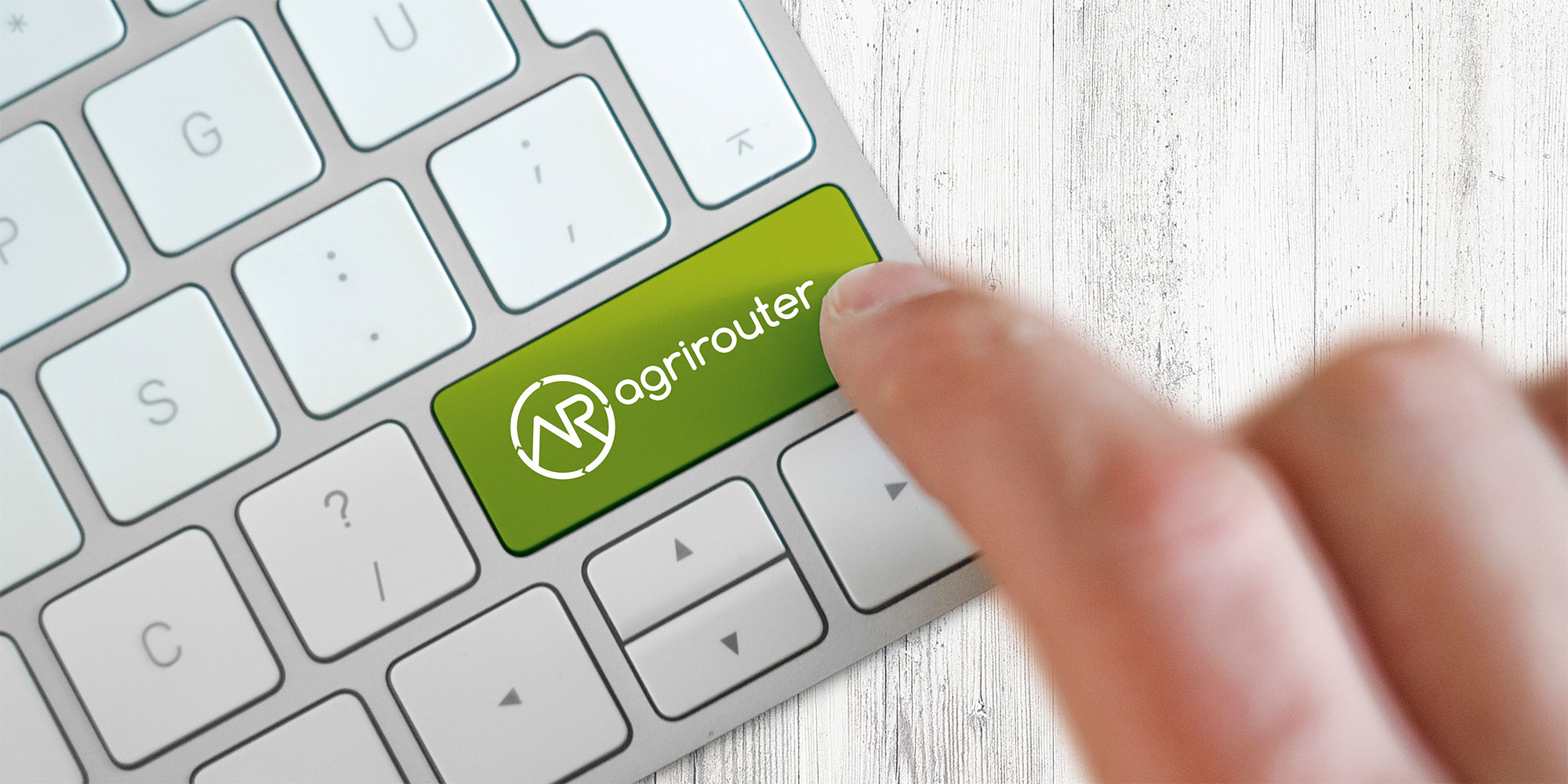 agrirouter
Manufacturer-independent, wireless data exchange
The agrirouter is a web-based data exchange platform. A free account can be used to send data such as jobs from your field indexing software directly to the CCI 1200 terminal in the tractor. This can also be carried out in the reverse direction by sending machine-related data directly to your farm PC.
Transparency: You define the routes on which the agrirouter transports your data.
Data security:agrirouter does not store any data - you retain full control.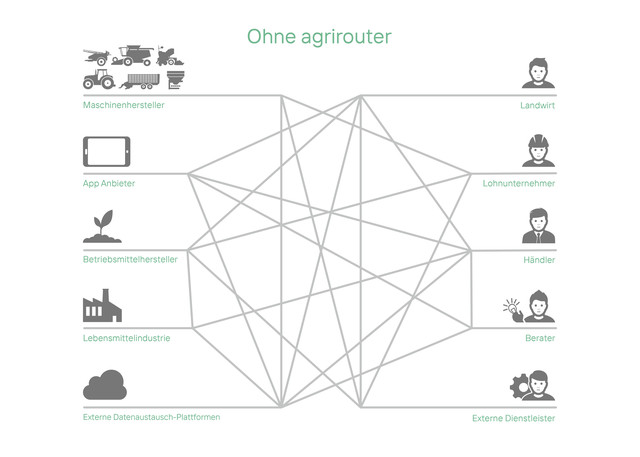 Data exchange without agrirouter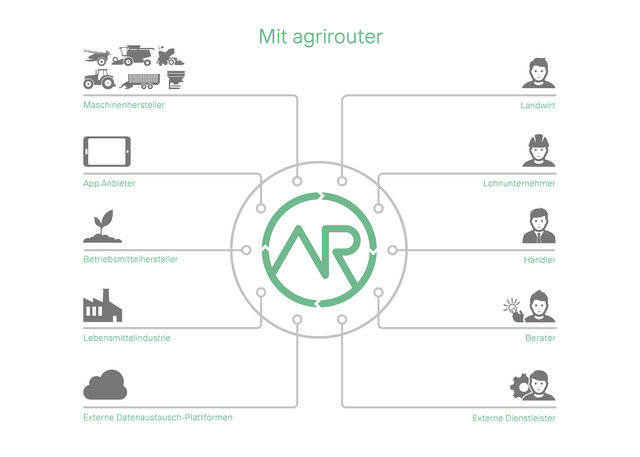 Data exchange with agrirouter
We are agrirouter ready
You can use the agrirouter for sowing technology in conjunction with our VITASEM and AEROSEM with electric metering drives and TERRASEM seed drills. In the harvesting sector, our ISOBUS-compatible loader wagon range FARO, EUROPROFI, TORRO and JUMBO can be connected to the agrirouter. These machines are able to document and make available data that is meaningful in terms of the work carried out. This data can be sent wirelessly from the tractor to the office as a standardised ISO-XML file using the CCI 1200 terminal. Likewise, you can send jobs wirelessly from your farm management system to the CCI 1200 terminal in the tractor. You no longer need a USB drive for data transfer. Even a machine fleet from a variety of manufacturers poses no problem for data transfer via agrirouter.
More information: www.my-agrirouter.com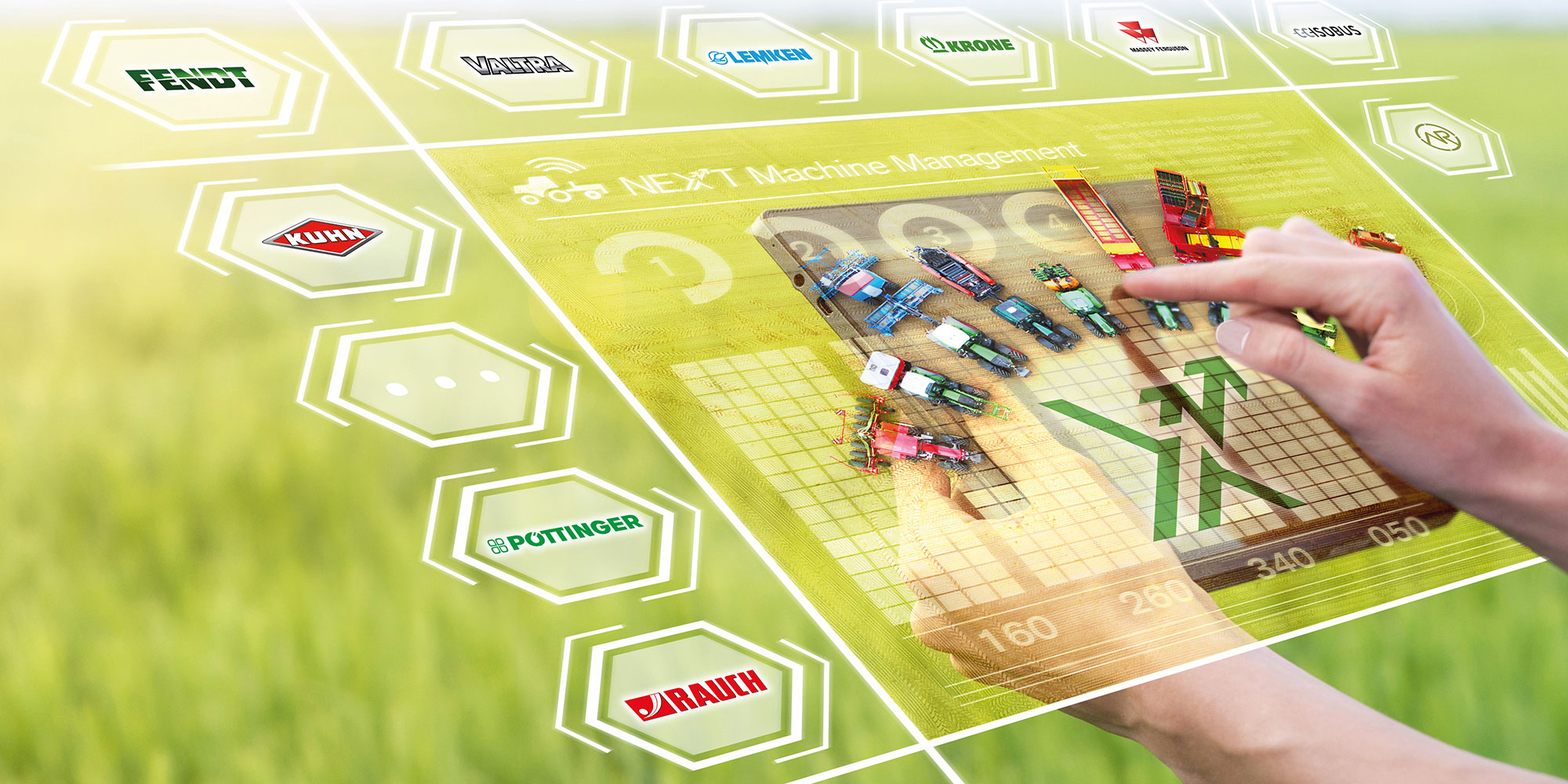 NEXT Machine Management

Intelligent networking of mixed brand machine fleets
NEXT Machine Management is part of the farm management and information system (FMIS) NEXT Farming and intelligently networks your machinery. NEXT Machine Management was developed by various manufacturers of agricultural machinery - including PÖTTINGER - with the aim of ensuring that every farm can benefit from the advantages of digitalisation. With NEXT Machine Management you have the capability to use and process machine data for documentation purposes, regardless of the make of the machine. A simple transfer of jobs to the machines enables optimal utilisation and effective farm management.
In combination with the agrirouter, your data can be transferred wirelessly from the machine to NEXT Machine Management and back again.
More information: www.nextfarming.com
Your advantages with NEXT Machine Management
Use and process manufacturer-independent machine data for documentation purposes

Easy transfer of jobs to your machines using agrirouter

Efficient use and optimum utilisation of your machines through smart planning

A central component of NEXT Farming for your digital farm management system

Future-safe with a high level of data security

NEXT cultivation planning and documentation as a basis
NEXT Machine Management with PÖTTINGER machines
Any machine with a task controller is able to provide work related data that can be used for documentation purposes. At PÖTTINGER this is provided by our VITASEM and AEROSEM seed drills with electric metering as well as our TERRASEM seed drill. In harvesting technology, our ISOBUS-compatible loader wagon ranges FARO, EUROPROFI, TORRO and JUMBO are equipped with task controllers. With the help of NEXT Machine Management, you can now use data from these machines to document the work performed. Using the agrirouter you can send jobs directly from the office to your tractor terminal. Whether you are a contractor or a farmer with your own machinery, NEXT Machine Management will achieve ideal utilisation of your machines.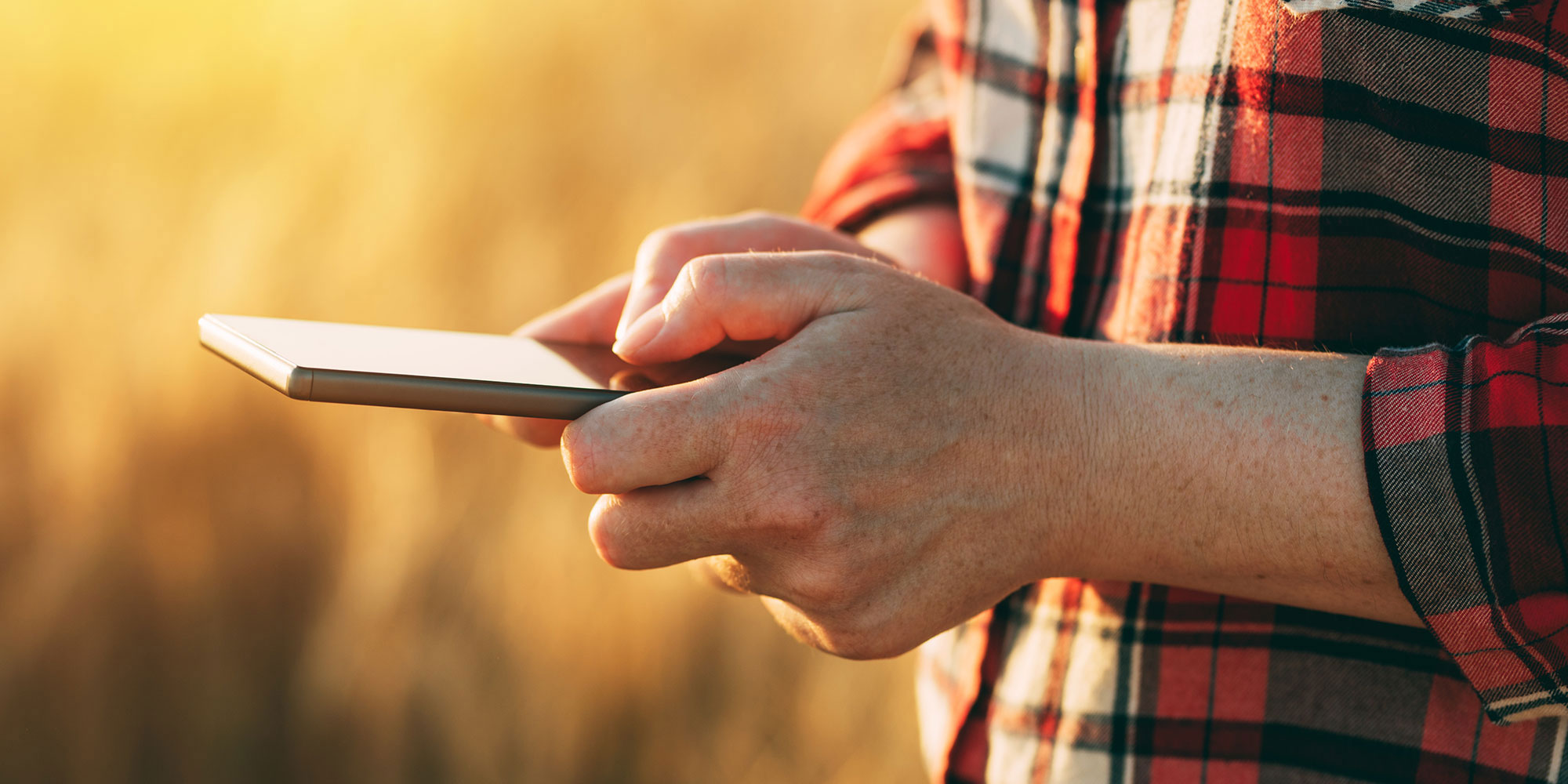 MyPÖTTINGER
All machinery information at a glance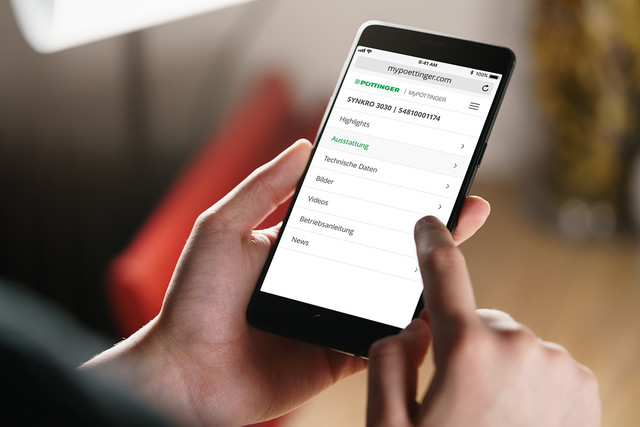 MyPÖTTINGER
For all PÖTTINGER machines - 1997 models onwards
MyPÖTTINGER is a tool to provide machine-specific information for all machines from year of build 1997 onwards.
Your machine goes online
You will immediately receive all the information on your machine.
Instruction manual

Optional equipment information

Brochures

Photos and videos
You will find more information here.