The PÖTTINGER SERVO ploughs now appear resplendent in a new, attractive design. But the modifications, for instance the new colour scheme and labelling, are not confined to appearance: technological refinements and improvements have also been made to the ploughs.
All ploughs are now fitted with the DURASTAR armoured reversible bar point as standard at no extra charge. The tungsten-carbide coating on the underside of the plough point reduces wear and tear, improves performance per hectare and therefore significantly increases change intervals. Because the points are reversible, both sides can be used which means you really get the most out of the wear part and can use it for longer. The result is a service life extended by as much as 50 per cent and greater cost-efficiency. What is more, at PÖTTINGER it is possible to change only the point without having to replace the entire share. Lower wear part costs are therefore guaranteed.

Thanks to laser technology, easily readable and long-life cutting width and working depth displays are now standard on all SERVO models. For easy loading and unloading of ploughs for transport, factory-fitted lifting shackles have recently been introduced.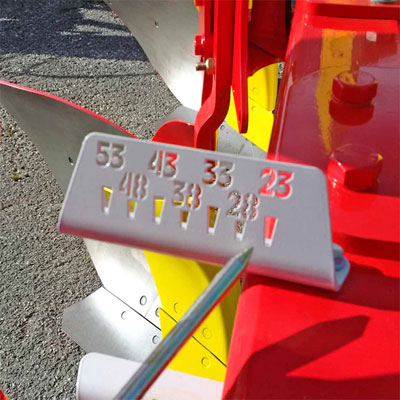 New cutting width range
The jockey wheel bracket has also been modified: The projection with a forward-mounted mechanical dual jockey wheel (steel or pneumatic tyres) has been reduced by 100 mm. This makes it more suitable for fenceline ploughing. This modification is available on all models in the SERVO 25, SERVO 35, SERVO 45 and SERVO 45 S lines.