Living agricultural technology
With outstanding working results, we enable each of our customers to experience PÖTTINGER as a leading and innovative agricultural technology brand! Our objective is to make work easier for customers and enable sustainable farming. Our products and services offer the highest possible quality because we are leaders in manufacturing methods and technology. "Living agricultural technology" is the basis for all our actions and the success of our customers is our objective. And has been since 1871.
We are specialists in grassland, tillage and seed drill technology. We create advantages for our customers with tractor brand independent mounted, implement-mounted and trailed machinery and the associated services. Farmers, large farms, contractors, machinery rings and associations in the arable and mixed agricultural regions and climate zones of the world - they are all our customers. Our wide range of products enables us to match the specifications of the different life styles and working conditions of our customers, from small mountain farms in the Alps, to huge operations on the plains in Ukraine or Canada. In the areas of agricultural technology in which we specialise, we want to be leaders in offering high quality for the best value for money.
As a family-owned company, PÖTTINGER takes its responsibility for future generations and the environment seriously.
We value all those concerned and respect their interests.
Company management
Working together for a successful future
The experienced Management Team shares a commitment and pleasure in driving the development of the company forward through expanding production capacity, digitalisation and ongoing internationalisation to generate sales growth.
As Spokesperson for the Management Team, Gregor Dietachmayr is responsible for Sales and Marketing. Jörg Lechner is responsible for Production at all manufacturing plants - Grieskirchen (AT), Bernburg (DE) and Vodnany (CZ) - and Procurement for the whole company group. Dr. Markus Baldinger is responsible for Research, Development and Digitalisation. Herbert Wagner is responsible for Human Resources & IT, while Wolfgang Moser is responsible for Finance and Quality throughout the company group.

The dynamic new Management Team of the family-owned company is committed to promoting important key values such as transparency, credibility, sustainability and team spirit. Working together constructively is the declared objective to ensure the continuity of the company. These principles and a sound partnership with the company's employees are what makes the culture behind the PÖTTINGER brand.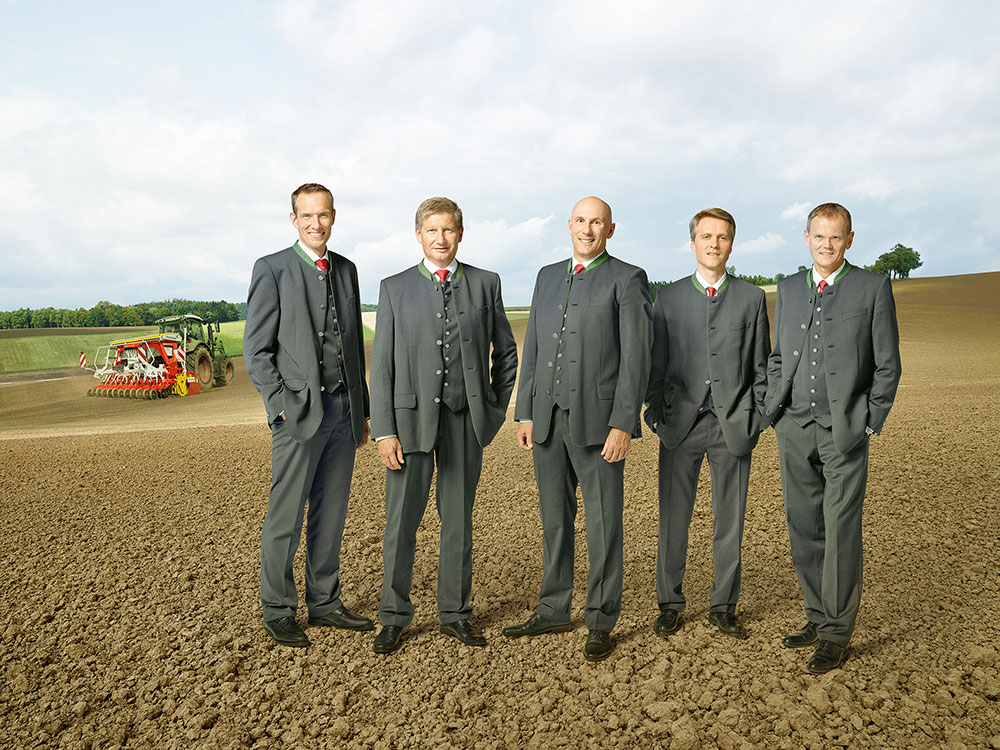 The new Management Team, from the left: Jörg Lechner, Markus Baldinger, Gregor Dietachmayr, Wolfgang Moser, Herbert Wagner