Silage wagons in the power class 100 to 180 hp are very much in demand, both by farms wanting to use their own machinery, as well as by contractors and machine rings. At Pöttinger the proven rotor-type loader wagon EUROPROFI has stood for smooth and powerful operation as well as comfort for 20 years. These wagons have loading capacities of 40, 45 and 50 m³, all with or without beaters.
Innovative details to meet high expectations
The Euromatic loading rotor with eight rows of tines arranged in a spiral has a diameter of 800 mm. When the power of the tractor is put to optimum use, the theoretical chopped length of the forage is 45 mm; an ideal structure for ruminants..



Focus on smooth operation:

Perfect transfer of the crop by the pick-up, even in difficult harvesting conditions (e.g. wet and short forage) (e.g. wet and short forage)
o The double tines penetrate the crop easier than other systems. The gap between the knives and tines is ideally designed to ensure smooth operation as well as protect the knives from foreign objects. (See how the Nonstop-knife protection system works)

Nonstop-knive protection


Pöttinger also offers the best possible compression in the loading chamber thanks to the 48 percent larger scraper surface and optimised tine shape. As a result the EUROPROFI achieves the highest effective loading performance per m3 in its class – in damp harvesting conditions as well.




rotor with scrapers


Pöttinger takes the lead with the invention of the pivoting knife bank "Easy Move" The Grieskirchen ag-tech specialists were awarded the DLG Silver medal during Agritechnica back in 1999 for the "Easy Move" solution. The Easy Move pivoting knife bank is fitted to the EUROPROFI as standard. No need to even stoop when you change or clean the knives with the knife bank pivoted alongside the wagon. There is no easier or more convenient way.

Easy Move pivoting knife bank


High loading speeds require a reliable and powerful pickup. The Pöttinger suspended pick-up with six rows of tines delivers impressive performance – even at high travelling speeds, in all harvest conditions. Farmers confirm that only Pöttinger's controlled pick-up system manages that.



Clean base forage has a higher value:

Careful crop handling thanks to optimum pick-up speed
No stones are propelled upwards
No unnecessary wear to pick-up tines
Plus: maximum conveyor effect to rotor -> even in difficult harvesting conditions such as in damp and short grass .




Pick-up


The new, high performance beaters ensure even higher unloading performance and a more even blanket of forage. On all models the scraper floor can operate at up to 17 m/min. (2-stage motor as option). Ideal for tight harvesting timeframes - this technology delivers highest performance and cuts down time spent in the clamp.


beaters


Reinforced chassis (permissible total weight 15 t as standard with parabolic springs or 18 t option) for even higher safety:

Maximum stability on slopes
At high travelling speeds
High braking performance.



chassis

Tyres up to 620/45 R 22.5" contribute to improved ground protection


EUROPROFI with new tyres

On rotor loader wagons used on farms relying on their own machinery, as well as those used by contractors, ground protection is a major issue.
Damp areas in particular are extremely sensitive to wheels exerting pressure on the ground. A shortage of oxygen and increase in detrimental gases have a negative effect on the formation of roots. The result is lower yields, a reduction in diversity of plant life and diminishing nutrient reserves.
Pöttinger has been investigating this in more detail and now offers new, wider tyres for the EUROPROFI. That's because a large area of contact reduces pressure on the ground. Heavy loads are distributed uniformly. Especially developed for Pöttinger - by professionals for professionals: the new wide tyres with the popular Country King profile. The tyre treads are configured openly so that they clean themselves with less dirty being brought into the clamp. At 710 mm wide these tyres minimise pressure on the ground. Smooth running is ensured by the profile depth of 22 mm. The radial construction of the tyres makes them very stable on the road and on slopes. Even at high driving speeds of up to 60 kph these tyres ensure safety and adhesion to the road..

Technical description: 710/35R22.5" 158 D Country King NOKIAN


The new Power Control Terminal also makes operation easier: Raised, illuminated keys make it easier to use in the dark, offering an additional comfort factor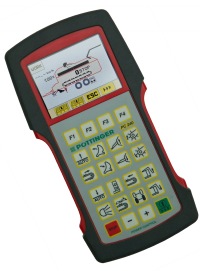 Power Control
Pöttinger loader wagons, the No. 1 in Austria and worldwide
Quality from Austria is in demand among domestic farmers. Pöttinger has been working continually on developing the flagships of their product range for over 50 years. With a wide range of 56 different models from hay loader wagons to high capacity silage wagons, the Austrian family-owned company covers all the requirements of farmers, large farms and contractors.